Wearing a proper, comfortable pair of basketball shorts makes playing a game of hoops that bit easier.
When you're wearing overly tight shorts that restrict your movement, you cannot jump easily or spread your legs wider as you stop running, and plant yourself to take a shot at the hoop.
Some shorts have a comfortable lining inside whereas others do not. Most have pockets, but they're not always that wide, deep, or easily accessible. Basketball shorts without pockets do exist though if that's your preference.
The material isn't always comfortable either; sometimes it's scratching when running around pursuing the basketball.
Affordable basketball shorts don't usually last and have to be replaced at the end of the season, if not sooner. They also are often made of mesh material or cotton which isn't very breathable.
Long basketball shorts are better for people who are taller and have longer legs even if the sizes are the same for the waist.
As well as men's basketball shorts, we cover youth basketball shorts too because most men's shorts are available in smaller sizes too. Check the sizing options to be sure.
Okay, so here we go with our reviews of the best basketball shorts.
5 Best Basketball Shorts For 2023
The Under Armour Men's Mo' Money Shorts are long that reach about to the knee depending on the leg length.
They have an attractive two-piece design that curves upwards towards the outside of the leg on both sides. The shorts have a 12-inch inseam.
There are nine colors or color combinations with these shorts.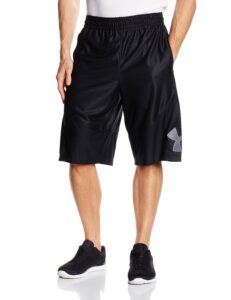 All these polyester shorts have the same basic design to them regardless of color selection; the two-tone colors are differently used with each color combo though.
These are cool basketball shorts because they're made from a fabric that's knitted and has a good texture on them.
It is likely to stand up to repeated washing, but it has breathable aspects to it to avoid getting hot. Sweat is helped to dry sooner and wick away.
The pockets are mesh and hold different objects. The mesh is enclosed to avoid losing things through the pocket. Buy From Walmart
The fitting has an elasticated waistband with a drawcord to tie the shorts and adjust their fit depending on your activity.
As a pair of basketball shorts, these are both comfortable and well-made. The design is distinctive enough to make you feel that you're not just wearing a run-of-the-mill design.
The quality is noticeable when compared to other shorts that don't use quality material or dependable stitching. Just make sure that you buy one that is the right size, so you have plenty of room to move around.
The Under Armour Men's Raid 10″ Shorts is used Heat Gear fabric that is both soft and comfy. The fabric is 5-ounce polyester, so it's durable and long-lasting.
It stretches in all four directions, so it moves when you do; jump for that dunk short and your shorts won't hold you back.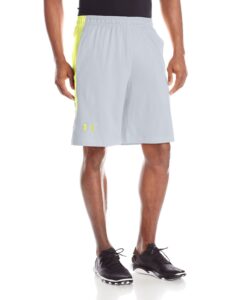 These men's basketball shorts enjoy a wicking process that moves moisture away from trouble areas to avoid getting overly hot.
There is a built-in UPF 30 plus to protect from the sun too.
The inseam is 10 inches which are two inches shorter than Under Armour's own Mo' Money shorts reviewed above. It is up to the wearer whether they need a longer short or a shorter one.
The taller man may prefer Mo' Money version whereas shorter people should certainly go for this model if they want the Under Armour brand. Buy From Walmart
There are 23 different color combinations you can choose from. This is one of the widest color choices of basketball shorts which is great to see.
There is no liner built into these shorts, so anyone that feels they need that should either look for other shorts or buy a separate undergarment to provide that feeling. It's probably not even necessary though in most cases.
The Best Wear Men's Mesh Long Athletic Running Basketball Active Shorts is a pair of shorts that are intended for mixed-use.
Rather than being expressly basketball shorts, they're also suitable for jogging, running, and long walks too.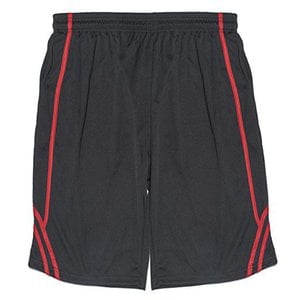 The shorts are longer than most under review. They come down below the knee in most cases even for a man who is 5' 9, so they'd most likely suit taller males who are 5' 10 and taller even if they have a smaller waistline.
These are certainly too large to be boys' basketball shorts.
The shorts come in nine color combinations. The basic styling is plain with piping as the secondary color, so they're not overly flashy or attention-grabbing They do have two side pockets to stick car keys or other items when out and about. Buy From Walmart
The mesh fabric is cooling and works well to keep heat levels down while playing sports in these shorts. There's a drawcord on an elastic band that is adjustable for comfort and fit.
The stitching is a little suspect in some batches of these shorts. Reports of shorts coming apart after only a couple of wears are being made.
These Best Wear shorts are a little on the budget side and as such, some of the quality detailing that you get with an Adidas or Nike pair of basketball shorts just isn't there.
You get what you pay for, essentially. However, when you expect to only wear shorts for occasional use or are happy to repair them from time to time, then these will certainly be fine.
The Nike Men's Nike Layup 2 Basketball Shorts has at least 12 color combinations, most use a variety of colored fabric but appear as a single-color choice.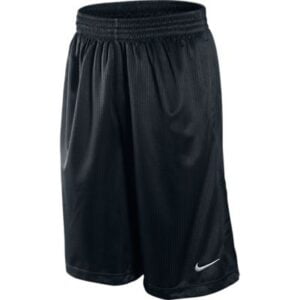 These Nike basketball shorts have an 11-inch inseam which balances between the first reviewed Under Armour and the second reviewed shorts by Under Armour that had a 10-inch and 12-inch inseam.
Because of splitting the difference, these Nike shorts for men will suit more buyers who neither wants something too long nor too short.
The fitting here is looser, so ballers can walk, strut or run and jump to the hook and not feel restricted at all.
Fast sudden movement and outstretched legs are common in basketball, so shorts shouldn't restrict player movements at all which these do not. Buy From Walmart
The side pockets are very deep due to the 11-inch inseam and can accommodate a smartphone or something of a similar size.
Synching up the shorts to fit nicely around the waist is made easier by the drawcord that is adjustable with the elastic fitting.
These Nike basketball shorts made from polyester are fairly unassuming but still, carry the tell-tale Nike swish to let everyone know that you're balling with your Nikes.
The sizing is generous, and the length is probably just right for most people too. The larger pocket size will likely be appreciated too for people who walk around with lots of gear.
Adidas Performance Men's Superstar 2.0
The Adidas Performance Men's Superstar 2.0 Shorts is a product with its distinctive three-black striped design that is clearly from Adidas.
The fabric is 100% polyester and made in a way that overlaps and creates stretchability for playing who move quickly and jump to the hoop.
The waistband is elasticated and adjusts easily to perfect the fitting. The 10-inch inseam makes these shorts less long and better suited to people who aren't over 5' 10 tall.
There's a useful pocket on either side of these shorts near the seam to carry your keys, phone, and other items.
These basketball shorts will be a hit with people who either like them as a quality pair of shorts or because they swear by Adidas and won't buy any other sporting brand.
Things to Consider While Buying The Best

Basket

ball

Shorts
There are a few different aspects to look at when choosing the right basketball shorts:
Materials
Materials matter a great deal with shorts, especially ones used to play ball. When they're sticky or they feel rough when brushing up against your leg then it puts you off your game.
You also need a balance between cool and warm shorts, preferably ones that have some silky warmth to them but also wick moisture away when you're overheating.
Let's look at some of the materials that shorts can be made of:
Cotton:– Cotton is soft and comfortable. It's also quite affordable. It keeps you warm enough when moving around but it isn't breathable, and you can overheat quickly.
Cotton sucks up a sweat and develops wet patches, rather than wicking moisture away by repelling wetness.
This isn't great when playing with a group and they stop to see the damp patch on your shorts; they might mistake it for something else.
For weight, cotton is also heavy to walk around in, especially when it's made with any kind of thickness to it. It gets heavier fast.
Polyester:– Polyester is a great material for basketball shorts. It wicks moisture rather than absorbing it. It can be given coatings to help repel moisture too. Polyester is far more breathable than cotton.
This material is lighter than cotton, so it's easier to move fast. Because it doesn't soak up the sweat, it doesn't get heavier during a long game either.
Polyester is man-made. It sometimes is called something else because big-name brands want you to think they're doing something special.
Hybrids:- With hybrid materials, they're designed that way to make them easier to wash and to stay dry for longer during wear. Material combinations can be cotton, spandex, polyester, elastane, etc.
Sometimes a big brand will invent a name to call their proprietary blend, such as Dri-Fit from Nike. These types of combination fabrics tend to push costs up.
Mesh
Mesh is designed to be cooler because air can move around easier. However, polyester or blended materials still stay cooler.
Mesh is better than cotton shorts and they're very affordable compared to other options. These shorts may not last too long in the washer-dryer though.
Getting the Fit Right
Getting the modern length right for basketball shorts avoids looking like the odd person out on the court. Basketball shorts are specifically for basketball and have a certain design and inseam length.
You can get the correct waist size or a size higher if you want a longer length. But don't get too oversized because the adjustable waist only goes so far. There is usually a size checker within the photos to check out to ensure you get the right size.[/wpsm_titlebox]
Final Word
With the best basketball shorts, when you are willing to spend a little bit more, you can afford respected brands like Champion, Nike, and Adidas.
While in some cases the brand name doesn't necessarily mean higher quality materials or improved quality control, with basketball shorts it does appear that the brand ensures a higher quality product.
Not all polyester shorts come out of the washing machine the same. Some come apart after repeated washing and other times there's tearing in the crotch area after little use on cheaper shorts.
Color fading in the sun is also an issue, but some branded shorts provide sun protection for their fabrics which is a welcome addition we didn't expect.
Ultimately, if you can stretch to pay a bit more for a better product, they're likely to last twice as long as the cheaper non-branded ones.
Plus, you get the street cred that you're wearing Nike or another name brand people have heard of.
Related Post