To make hanging out in the pool more enjoyable, the addition of a best pool basketball hoop adds a fun new element.
Just like with water-based aerobics classes, using the pool to handle muscle strain and provide buoyancy allows the body to not strain itself while having some fun in the pool.
The basketball pool hoop sits on the edge of the pool as a standalone unit that is secure in its position. The hoop either overhangs the pool or sits back a little bit from the edge.
Water basketball hoops are made easier with a rebounder design that aims to let the ball bounce back into the pool for easier collection than having to climb out every other hoop attempt to go collect it.
Using a poolside basketball goal system is a magnet at pool parties to get players into the pool for a shared match.
Young or old, slim or overweight, it's easy to move around, get the ball and take aim at the pool basketball net.
Jumping up to block another shot is better done by the taller players, but shorter ones can stick to the shallower end of the pool to get their elevation.
The Top 10 Best Pool Basketball Hoops
The Lifetime 1306 Pool Side Height-Adjustable Portable Basketball System is a basketball goal for pool places that enjoy a large 44-inch backboard to ensure that you don't miss the target. The backboard is shatterproof too.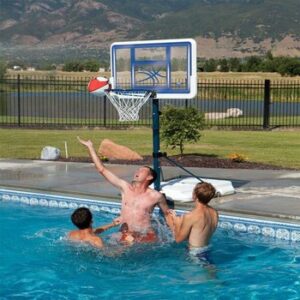 The height is adjustable from 4 feet up to 7 feet using the telescoping adjustment in the pole. Rather than having a specialized rim, the classic basketball rim is used to make things look familiar.
There's also a 3-inch diameter pole rim made from steel to keep it strong and unbending.
The materials are all built to be both weather-resistant and stand up to repeated splashes from the chlorinated swimming pool water.
The fillable base is a large portable one that fits up to 27 gallons of sand or water inside to weigh it down. Sand is best when available.
There is a 5-year limited warranty on the product. Buy From Walmart
The Dunnrite Pool Sports Swimming Pool Basketball Hoop features a 13.5-inch stainless steel basketball rim that's been vinyl coated to protect it from saltwater pools. The rim is a standard size for regular players.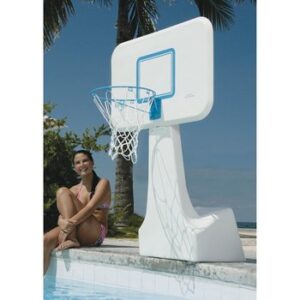 There's also a basketball provided that's in the middle range of sizes for easier handling in the pool.
The base is capable of holding up to 115 pounds of weight using sand or water to weigh it down sufficiently. The backboard is made from polyurethane for durability over time.
The rim does tend to show signs of rust over time. Saltwater pool water affects it badly. The white coloring also loses its hue over the ownership period and needs sanding down and repainting to replace its coat.
Using a rust guard protective spray before assembly is probably recommended. Buy From Walmart
The Lifetime 1301 Pool Side Basketball System is an attractive hoop for the pool that sits right next to it.
There's a 44-inch wide backboard made from polyethylene that's adorned with a water image that fits right in at the poolside.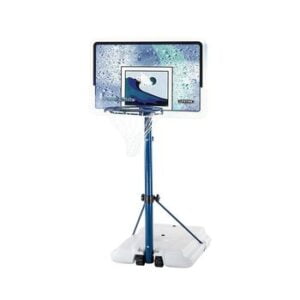 The backboard manages to bounce the ball right back to the pool to avoid having to climb out to collect it too often.
The steel rim is blue hammerstone, so it's distinctive and 18 inches in diameter to match the regulation size.
There's a powder coating over the steel, but it's still a good idea to add your protective coating to avoid rust build-up early on.
The rim holds a 50-gram netting that weighs it down a bit. The telescoping steel pole adjusts for height from 4 feet to 6.5 feet at its highest setting.
The base fits 27 gallons of sand or water to balance it and ensure it doesn't ever fall into the pool. Buy From Walmart
The product is well constructed. It does take a while to put together and is surprisingly tricky to do for some people.
The Poolmaster Pro Rebounder Poolside Basketball Game is a different kind of product.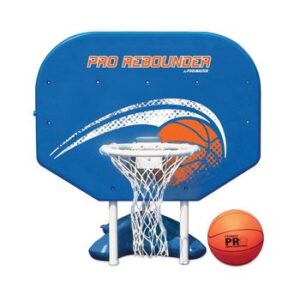 This is a blue rebounder that is positioned at the edge of the pool with the rim and netting hanging over the poolside to deliver the ball right back into the pool again.
The backboard is 25.5 inches high with a 34-inch width. It helps the ball around back into the pool when missing a shot.
The hoop itself is made from PVC rather than steel as some others are. The netting is polyethylene and hangs down to the pool level.
It does tend to bunch up badly, so zip-tying it is helpful to avoid this happening.
A Classic Pro ball is provided that needs inflating before use. Buy From Walmart
The Swimline Cool Jam Pro Poolside Basketball Super-Wide is a useful product to place next to the pool. It has an interesting base design that helps balance the weight away from the pool area.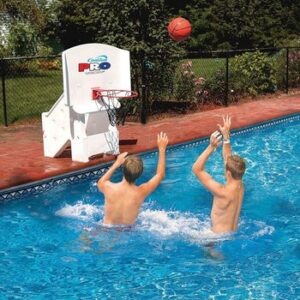 The backboard is generous 44 inches wide and 32 inches tall to catch more balls and rebound them.
The metal hoop and netting support good shots. The basketball supplied in the box is a regulation size for experienced players.
The hoop and net hand over the pool to return accurate balls to the pool.
The wider-than-normal backboard does a good job of catching the stray balls that won't make the net without having to climb out of the pool each time to go fetch them. Buy From Walmart
Rust is an issue, particularly at the welding points. Spraying the rim with a protective spray avoids the rust from starting early.
The SwimWays 2-in-1 Game is a pool product that aims to offer both poolside basketball and volleyball options. There is a 24-inch basketball net provided to string across the pool for a gentle volleyball match.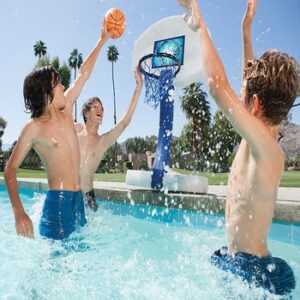 A volleyball is also provided. There are also two basketball bases, and hoops provided with nets, plus a separate basketball too.
With volleyball, each base sits on the other side of the pool holding the net up. For basketball, one of both hoops with its backboard and base can be used depending on how many people are playing.
The base can be filled with water to make it more stable. This is worth doing.
The rim clips are only plastic, so it's easy for them to come off or break during use. The product quality isn't fantastic and likely won't last more than one pool season. Buy From Walmart
The DunnritePoolSport 2 in-1 is a combo set that includes two bases and a volleyball net to stretch across a pool.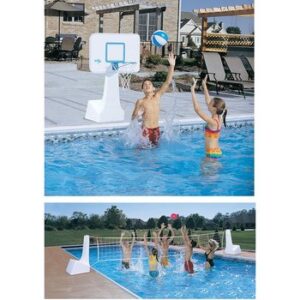 The idea is that either one or both bases are used for basketball from the pool or when there are enough people, to play a water volleyball match instead. Volleyball is great for pool parties and basketball is good for families.
The hoop bases are made from polyethylene to be stronger and are fillable with up to 115 pounds of water to make them sturdier. Each rim is vinyl-coated stainless steel for better resistance to water damage.
Each basketball rim is 36 inches above the water level. The backboard is a reasonable 31-inches wide by 22-inches high which isn't the widest but is certainly good enough. Buy From Walmart
The Dunnrite Splash and Shoot Swimming Pool Basketball Hoop is a seriously heavy-duty poolside basketball hoop. It has a 43-inch wide polyurethane backboard and a base that holds 25 gallons of water.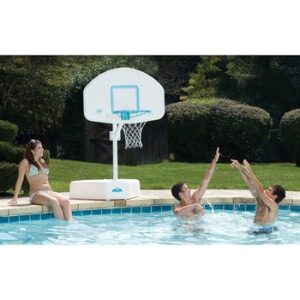 Aluminum pole 2 3/8-inch diameter coated with the protective powder that telescopes up to different heights at a maximum of 56 inches. Stainless steel rim with a vinyl coating to help it avoid rushing.
The extremely solid base gives a lot of confidence that it will stand up. Grabbing hold of the hoop when dunking the ball is not recommended or it could tip regardless. Buy From Walmart
The PoolmasterSplashback Poolside Basketball Game is an excellent option for a low-height, non-adjustable basketball net.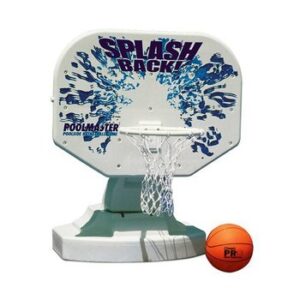 It has a 34-inch wide backboard that catches a good number of balls. It has an attractive graphic image on the back of it too.
The base is Polyform and can be filled with sand or water. The 14-inch hoop is PVC and the netting is polyethylene.
Good basic poolside option for playing basketball in the water. Good for kids 8 and older. Buy From Walmart
The Poolmaster 72794 Pro Rebounder is an adjustable height model hoop that runs to 40 inches, 54 inches, and 74 inches in height. Its PVC pole is coated to protect against rust.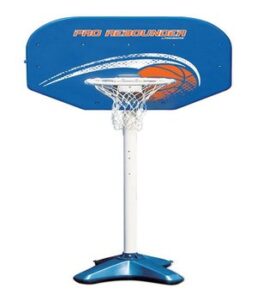 There's a 34-inch wide backboard above the pole with an attractive graphic on it. This bounces the balls back nicely that miss the net by a wide margin.
The base is fillable with sand or water. The PVC hoop is vinyl coated and at 14-inches is a good size.
Dunking the basketball is possible, but it's best not to avoid the risk of the rebounder coming down in the pool. Shooting for the hoop alone is the safest way to use the product.
The product is ideal for kids over 8 and adults too. Buy From Walmart
Feature You Look in The Best Pool Basketball Hoops
Models fit neatly between being a single basketball hoop with a base and pole to hold it up and a 2-in-1 product that offers both basketball and volleyball options.
With the volleyball/basketball combo, two bases are provided as well as a volleyball net allowing you to string the net across the width of the pool using a base on either side to hold it up. This is ideal for pool parties and when the whole family comes over.
For the basketball setup, two bases are useful to have a hoop and net at each end of the pool for larger groups. Though this is unusual.
Most poolside basketball products come with a sturdy base that is fillable with either water or sand (sand is heavier and a better option).
Depending on the overall weight and design of the product when assembled, a base that supports a greater volume of sand or water is best.
Products are designed differently to avoid tipping over into the swimming pool, so some consideration should be paid to which designs look sturdier and less likely to tip over.
In most cases, the basketballs supplied are lower-quality items. For small kids, foam balls should be avoided because of the edible risk.
However, most poolside basketball sets are designed for children aged 8 and older so this shouldn't be an issue.
Anyone serious about using their basketball hoop in the pool would do well to purchase a couple of quality pool basketballs to replace any supplied one that came bundled with the main product.
Due to the amount of water splashing and the chlorine or saltwater content of most pool water, everything from the steel to the PVC to the plastics and all other parts doesn't fare too well.
Sure, the poles are often powder-coated to protect them from moisture, but there's only so much one can do.
It is recommended to first spray down all relevant parts before assembly with a rust corrosion protective layer. If necessary, several times, before assembly. This will likely add months or years to its useful life.
The risk of a poolside basketball apparatus coming down into the pool is limited. We would recommend advising all children not to dunk and try hanging onto the hoop because they could injure themselves badly.
Given that they're already in the pool, being knocked unconscious by part of the equipment could cause drowning if no one is there to see it happen.
Therefore, it's recommended that children are always accompanied by a responsible adult who is aware of the risk.
Generally, using this type of product is very safe, especially when loading up the base fully with sand first and not dunking on the hoop by putting all the child's (or adult's) weight on it. But like anything, it's important to act responsibly when using it.
Final word
Adding a poolside basketball hoop is a great way to get more use out of the pool and surrounding deck. Adding a sporting element brings people together for a friendly game of basketball.
For exercise, using the pool is a great way to reduce pressure on the joints and skeletal structure while having fun.
This applies both to adults and overweight kids too. In general, the widest backboard provides the best chance to have the ball return back to the pool most often.
Both shorter and taller height models have their uses. And look for build quality because not every brand holds up as well as one would hope.
Related Articles