Playing a game of hoops is a great way to pass the time. It tends to get the kids from around the neighborhood off the street which is a good thing for their safety too.
We all spend too many hours glued to our smartphones or TV at home; it's useful to have a fun activity to do outdoors on good weather days that provides some exercise and group enjoyment too.
For adults and families, the best in-ground basketball hoop is an effective way to get everyone outdoors together to try to learn to dribble up to the hoop and dunk the ball.
Parents can lift their little ones off the ground to assist them and the father can go up against his teenage son to see who's best.
This article looks at a particular type of basketball hoop used outdoors, the in-ground type, which is planted cement and then usually secured with a solid base.
So, let's now look at some reviews of the better models in this category to see which one might be suitable for your front yard, back yard, or local sports center court.
Playing basketball is probably something you remember doing as a kid in the playground at school or at home in front of the garage.
That rusty old hoop wouldn't stay up and chipped away often, eventually giving up the ghost when it broke in half and could no longer be repaired.
Eventually, my dad was persuaded to buy a replacement that we could change the height on because we were short at the time.
It lasted a good few years, and we got our dad to raise it higher as we grew, so it kept being more difficult to sink a hoop.
The in-ground basketball hoop that's designed to be portable is useful because it is moveable, so it doesn't have to stay outside in the rain.
It can be moved over to the garage overnight and only moved back into the driveway when playing. With the in-ground systems, they require poured concrete to fit the pole into to provide greater rigidity, and their parts are supposed to be weatherproof.
The Top 8 Best In-Ground Basketball Hoops
The Pro Dunk Platinum In-Ground Adjustable Outdoor Basketball Goal is the real deal. It sports a full 72-inch backboard that's regulation size.
It's huge, so you'll need a wide enough area to fit this in and leave plenty of space around it to play ball.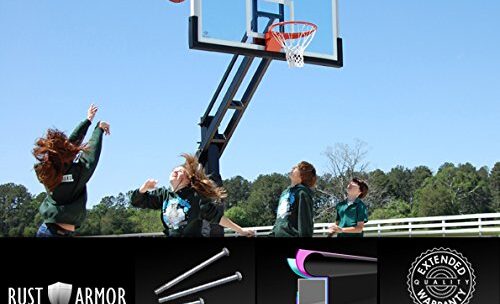 The backboard is made of tempered glass and is 0.5 inches thick. It's see-through and strong enough to take some heavy hits from a ball thrown at a distance.
When you're wanting to practice on the same size board as they use in the NBA, then this one is it.
The pole is a single piece. The stand system benefits from four springs to provide robust support.
The rim height is adjustable down to 5 feet, 6 inches (rises to 10 feet) so a teenager can do it. The basketball hoop is assembled and attached to the backboard.
The stainless-steel construction provides greater rigidity, and the Rust Armor coating protects from the outdoor elements.
There's galvanized zinc included to provide greater metal protection too. The padding and strength of the materials ensure that they won't let you down in the middle of a match.
When you need a regulation-size glass backboard and have the space to accommodate it and still play a regular hoops game, then this is the product to get.
It takes time and several people to fit and install it correctly. The components, especially the backboard, are heavy and can name be installed working alone.
The Lifetime 71525 Height Adjustable In-Ground Basketball System is a good size with a 54-inch backboard. The backboard is made from polycarbonate (Makrolon) which is stated as being shatterproof.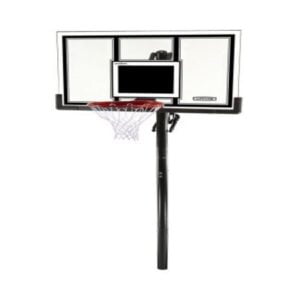 The backboard has a steel frame around it and is molded, so it should stand the test of time.
The rim is also made from steel (5/8th inch) and has two layers of springs to provide support for active dunking of the ball without causing any damage.
The net beneath is nylon but intended to handle all types of weather year-round.
The height adjustments for this in-ground system are between 7.5 feet and 10 feet, so it's not possible to adjust it without standing on a chair or a ladder.
Most likely it'll require adults to make the adjustment rather than teenagers. Buy From Walmart
The steel pole is 3.5 inches in diameter and comes in three parts and has a powder coating to protect it from the weather. It goes right into the poured cement and can be expected to last at least five years.
The product is a good one for the cost. The polycarbonate backboard is good enough for most players who are looking for a system that won't fall when you shoot too hard for the hoop or try to dunk the ball.
Strong materials were used throughout, though the backboard feels a bit too flimsy but seems to hold up regardless.
The Pro Dunk Silver In-ground Adjustable Basketball Goal Hoop is a slightly junior version of the larger Pro Dunk Platinum reviewed earlier.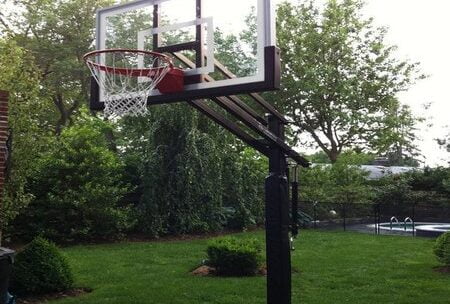 The product has a 54-inch backboard that's made of strengthened glass that is half an inch thick. It protects from scratches better than acrylic or other materials.
The basketball pole uses dependable 7-gauge steel. It's 5 inches, built in a single piece, and goes right into the ground.
It's well-balanced as well, and there's a base for it too, so it looks more attractive once installed than it would otherwise.
The height of the hoop is adjustable from 5 feet to 10 feet which makes it ideal for smaller children to use and parents to adjust higher as they grow up. Buy From Walmart
The height is so low at the lowest setting that it overhangs the driveway when installed to the side of it.
The board and the stand don't wobble during use when installed correctly. It is solid and has the strength to last.
There's also some padding for the pole, backboard, and gusset to ensure the hardware stays firmly in place and doesn't work itself loose during gameplay either.
The steel is protected with the same Rust Armor zinc system that is present on the large adjustable basketball hoop reviewed first.
The protection covers the metal areas and ensures they do not rust early into their useful life.
The product comes with a limited liability warranty that lasts a lifetime.
The Pro Dunk Diamond Ultimate Adjustable In-Ground Basketball Goal System is a comprehensive solution for homes with large outdoor areas, professional outdoor arenas, playgrounds, parks, and other locations that are substantial enough to benefit from it.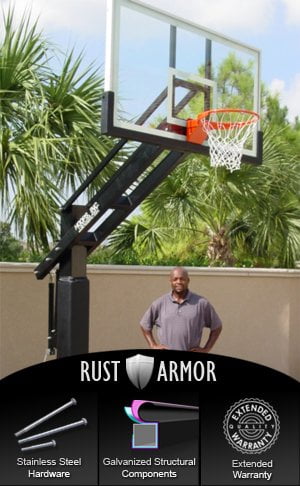 The backboard is the full regulation 72 inches wide. It's made from strengthened glass and is half an inch thick to prevent shattering the backboard with a hard hit.
It's also see-through which is more attractive than non-transparent backboards.
The pole measures 12 by 8 inches and stands upright, but has a metal arm that reaches out to get to a good height.
The height is adjustable from 6 feet up to 10 feet and hangs over the ground, so it's possible to install the pole into the ground but has the board overhanging concrete or another surface suitable for a ball game.
The stainless steel used is coated with zinc that's been galvanized to provide a protective Rust Armor shield that Pro Dunk provides with many of their similar, smaller basketball hoops.
There is also padding for the pole and backboard that's an inch thick to soften the shaking from high-impact shots to the hoop to keep the noise factor down and prevent a part from shaking loose over time.
The warranty is a lifetime limited one that covers all the usual things.
The Silverback 54" In-Ground Basketball System with Tempered Glass Backboard is a product with some good features.
The backboard isn't a regulation size, but it is 54 inches wide and 33 inches deep which is a good size for most people.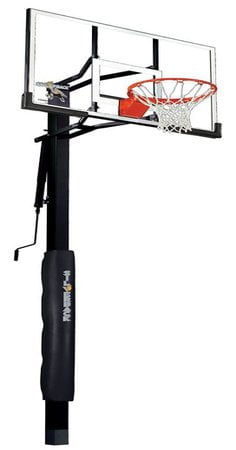 It is made from strengthened glass that's 5mm thick. The metal frame surround gives it some added rigidity too to avoid it breaking from a hard shot.
The height of the basketball hoop is adjustable from 7.5 feet to 10 feet, which isn't as adjustable as the Pro Dunk model above but is within normal parameters for most basketball hoops, so we're not disappointed.
The ASTM standards for safety are observed with the height adjustment process to avoid difficulties or accidents. An actuator crank at the back of the pole is used to start and control the height adjustment process.
The backboard and parts of the pole have added padding to soften the impact if a player flies into the backboard while making a shot or hits the pole accidentally.
The rim is a breakaway variety ideal for dunking while avoiding the shooter getting injured by the steel metal ring. Buy From Walmart
The stainless-steel pole is broken into two parts making it easier to put together. There's a protective powder coating made by respected DuPont to avoid rust damage from the outside weather.
The secondary protection includes a zinc layer the Pro Dunk model reviewed above does. There's added paint at the bottom of the pole to protect against corrosion that's also made by DuPont.
The pole goes straight into the ground and has extra paint protection to handle the damp earth below. There's a multi-year limited warranty that comes with this model.
The Spalding NBA In-Ground Basketball System comes with a 60-inch backboard (34 inches in height) which isn't quite the regulation size, but it comes closer than some other products manage to do.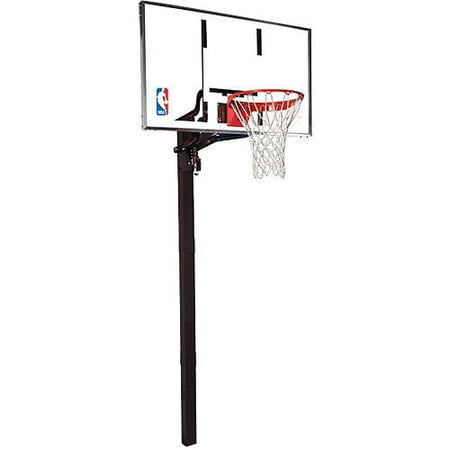 It uses aluminum around the edge of the glass backboard (with an NBA logo in the bottom-left corner) to support the glass that's 0.25 inches thick for durability.
The height adjustment uses Spalding's U-Turn system that offers adjustment from 7.5 feet to 10 feet just like the previously reviewed model.
It's fairly easy to adjust using a lift handle that's also removable to avoid accidental adjustments by children.
The square-shaped pole is made from two pieces of steel that fit together. There's a convenient anchor process with a sleeve that makes installation a bit easier than it would otherwise be. The glass backboard stands two feet away from the pole. Buy From Walmart
The breakaway rim from Pro-Image makes it safer to dunk the ball and not get injured in the process.
The Lifetime 71799 Height Adjustable In Ground Basketball System is a less expensive basketball system for people who don't wish to spend four figures or high three figures on a system for their front yard.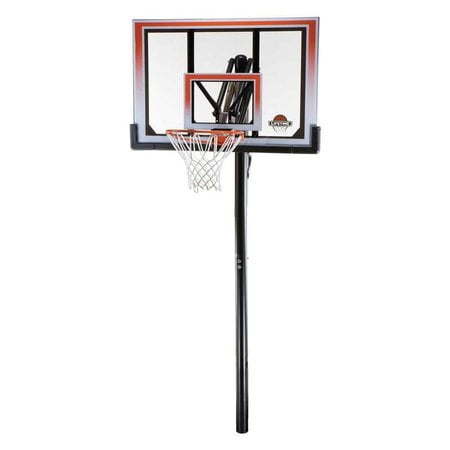 The model comes with a 50-inch Makrolon polycarbonate backboard that's expected to be shatterproof.
It has a UV protective coating to avoid colors fading from the sunlight. The polycarbonate is less fragile than acrylic would have been.
The Slam-It rim is designed for dunking and will bounce back into position afterward with its dual-protection spring system which protects the player. The nylon net is durable and hooks onto steel hooks that are welded on for rigidity.
Height adjustments are possible with the pole that allows for 0.6-inch height adjustments from 7.5 feet to 10 feet.
All the metal is covered with a powder coating to ward off rust. Buy From Walmart
There is a Lifetime cement sleeve that's usually purchasable separately and this required greasing up if you plan on removing the pole at a later time (the sleeve will stay in the ground with the cement).
The Goalrilla GS54 Basketball Hoop is an interesting product that has a square pole and base that bolts into the ground using four bolts.
This provides for the possibility of simply unbolting it and then removing it when moving to a new house and refitting it later.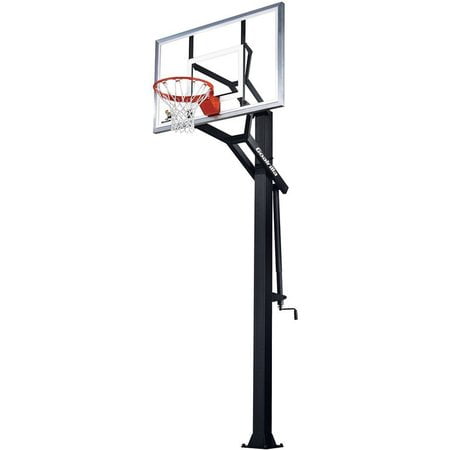 The 54-inch backboard is a glass one that provides good performance. It is clear and see-through, so you can see parts of the frame behind it.
The glass is tempered to add 10 times the usual strength to avoid breaking from a hard shot at the hoop.
The height of this model runs from 7.5 feet to 10 feet and is adjustable using a crank actuator which is a common way to affect height changes on other models under review in this guide.
The steel pole has a powder coating on it to help it stay strong and avoid collecting rust over time. Buy From Walmart
The red hoop is a breakaway one from Pro Style that provides some flex to it when taking a hard shot or when attempting to dunk the ball and putting your full weight on it.
The hoop comes out from the pole by 2.5 feet which is more generous than most models here. There is a limited warranty that covers a lifetime of use.
Conclusion
An in-ground basketball hoop provides a better dunking experience for players. It is adjustable in height in many cases and provides a good degree of overhang for a court.
The higher-priced models come with greater warranty coverage for the glass backboard (not polycarbonate ones). While the rust protective coating is consistently applied to all products reviewed, not every coating is great.
And bank on needing a handful of strong guys to help get the basketball hoop installed properly.
When looking for an In ground basketball hoop, first you must decide whether you want an in-ground system or a portable one.
Sometimes these are reviewed together and other times separately. In this case, we've included a few of both types because all these products have adjustable height options (the in-ground models are far more adjustable).
The size of the backboard is the next hurdle; again in-ground models support larger, heavier backboards made of glass. However, when choosing a portable basketball goal, there are compromises to be made with materials.
The stronger materials tend to come with the far more expensive in-ground systems where the last thing you want to do is install the pole in cement and then have it break on you! You have to decide what type of system you want, and then it makes the selection process much easier from there.
Related Post