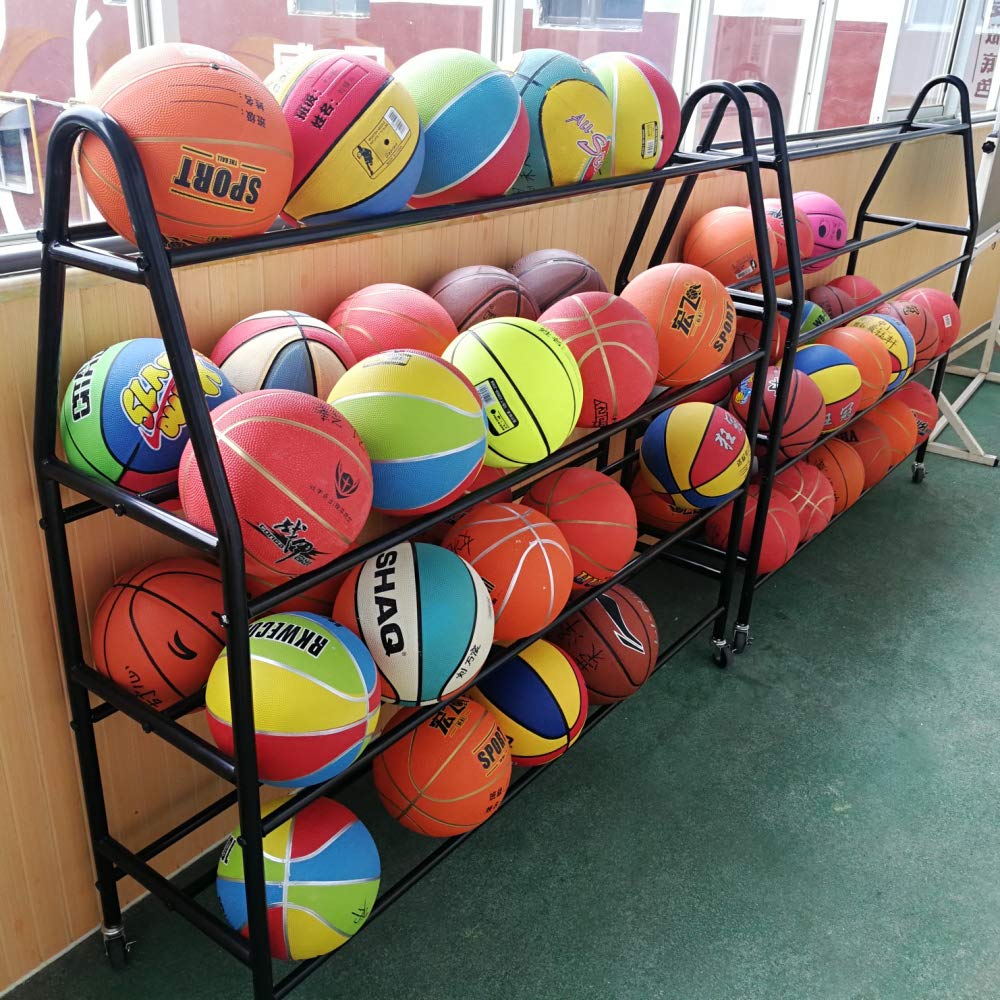 The Best Basketball Racks In 2023- Champs Hoops
When you or your team have many different sports balls in the gym or elsewhere, then it's difficult to keep them organized and not rolling away from you. A basketball storage rack solves this problem by collecting the balls together in a single place.
These kinds of storage racks are usually designed to hold balls of different sizes; they can easily store basketballs, volleyballs, soccer balls, and other types too.
Most racks of this type under review below have multiple levels, so it's very easy to place the most used balls – hopefully, basketballs! – on the top level and use the lower levels for the less frequent ones for other sports (or basketballs that are a bit worn but still fine for practices and basic shooting drills.
For the adventurous, it's possible to bring the rack out to the practice area to pick balls off the top shelf to practice shooting three-pointers without worrying about balls rolling off or losing time collecting stray balls too.
Now, let's dive right in with Champs Hoop's review of the 5 best basketball storage racks below that I personally used during training sessions.:
5 Best Basketball Racks
The Trigon Sports ProcageHD takes an entirely different approach to the storage of the main basketballs than the other products under review today. It's designed to be a secure way to store as many as 30 basketballs (or other types of balls) in a rectangular cage.
The cage is produced using a form of steel tubing that's received a generous 1-inch coating of protective powder which helps avoid rust over time. The cage has strong bars across all sides and its underside to ensure that no balls can escape (or be stolen when the cage is left unattended.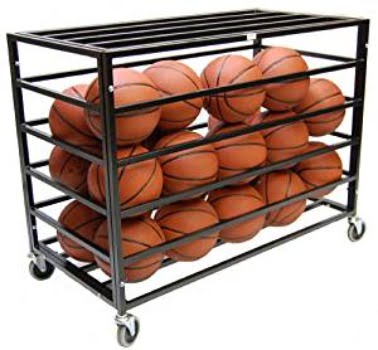 The lid has a hinge on it which makes it easier to lock it to prevent illicit access. This prevents an adventurous school kid from removing all the balls from the cage and throwing them around the gym for a laugh. The cage measures 45-inches long by 24-inches wide45 inches in h24 inches
They assemble 38 inches roughly 20-25 minutes. There are multiple castor wheels supplied that are made to be robust and they certainly look like it! They're four-inch wheels each with a wheel designed to not put marks into new gym floors which is good news. Buy From Walmart
The design of this cage with metal tube bars is stronger than a wire-based container that bends more easily. The cross beams being tubular and not solid steel are bendable if they have considerable weight to them (like a teenager climbing up and sitting on the top of the cage).
So, they should be informed to not abuse the cage. However, this is an honest trade-off because solid steel would make this cage far too heavy to be practical.
PE teachers would have difficulty wheeling the cage across the gym – even without it being filled up with basketballs – with anything made tougher.
The BSN Sports Ball Cart is designed to hold 12 balls in total with four on each level (there are three levels in total). The rack itself is white-colored because of the protective coating applied to the steel tubing structure.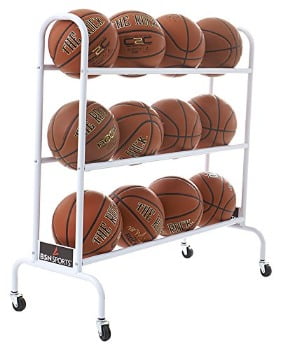 The long bars at the front and back of this ball cart are designed to fit a regulation basketball without it falling through to the level below.
Therefore, while it does this well, it may be less ideal when using smaller, non-regulation basketballs for juniors. Also, this product may not double nicely to hold volleyballs, soccer balls, or other sports balls – it will depend on the diameter of the ball compared to the gap between the bars.
The bottom level has two black sections with the BNS logo applied on either side for a more professional look. Buy From Walmart
The base is wider to compensate for the extra weight when balls are,e stored on the cart, so the weight is better distributed which helps the rack to stay upright and not tip over. The cart when assembled measures 40 inches wide by 40 inches high by 16 inches deep.
The four castor wheels use strong metal and a hard rubber that's non-marring and is designed to hold the combined weight of the cart and basketballs without concern. This protects gym floors with carefully marked lines from being de40 inches high is v40 incessant.
The 16  inches of this cart compared to the Trigon rack is preferable for some people. However, it's still very sturdy as it's made from steel tubes as well. Wheeling out the cart is going to be a little easier due to its lightness.
Accessing the cart vs opening the cage and having to dive in to retrieve some balls is more convenient for shooting a few hoops in succession too.
The Baden Steel Basketball Rack does look the part. The rack has been designed with the Baden logo prominently displayed on either end in a darker grey which nicely offsets the light grey coloration of the steel frame. It adds a much-needed touch of class.
The steel design with tubular construction is very similar in design and appearance to the BSN cart model reviewed above.
The rounded tubes let the balls roll along, as needed. There's a four, regulation basketball capacity per level and three total levels.
The caster wheels are rubberized and slick enough to roll well on any gym floor without the balls bouncing out of their designated positions. The rack holds 12 balls in total – there's no space for more than this and the rack isn't designed to hold a greater weight either.
It's perfectly designed to be rolled out of a storage position and out onto the basketball court to use the balls in practice or to make new basketballs accessible during a game match. Buy From Walmart
Putting together the rack isn't hard to do because instructions are provided and so it doesn't take very long at all. It's not a task only for a teenager or someone in their 20s either.
The rack once assembled doesn't wobble – it's very sturdy considering how slender its appearance is once it's fully put together. The wheels are also better quality than you would imagine.
They perform better than most castor wheels when tend to get caught up and turn around several times when trying to move forcefully in one direction.
The Blue Collar Industries Basketball Butler is intended to provide easy access to one ball at a time in a type of feeder system. Three regulation-size basketballs sit above the bottom one which can be reached for and removed from the butler rack system.
There's access to the feeder from both the top and bottom depending on which is easier to reach for at that moment, but it's certainly easy to feed balls in through the top and later retrieve them from the bottom as a routine.
The rack is made from steel which has the expected coating of powder to protect it from the air and other elements. It's got a rear section that's attached to a wall or other suitable surface.
As such, the design is very different because it's not one that you will wheel around and so has no caster wheelset to be concerned with.
The rear panel is where the problems start. It is not as sturdy as the steel bars that hold the basketballs inside. Indeed, there are multiple reports of the back-panel connectors snapping into multiple parts.
This hasn't been too bad because they can still be individual sections affixed to a wall (only the connectors break) which then holds the entire steel rack in place. Therefore, it's not a deal-breaker at all, but just something to be aware of.
Securing the back panel in multiple places along its length is going to help keep it positioned properly even should a connector disappoint at some stage during its useful life.
The rack itself measures 4.4.5 inches in diameter and is 3636 inches in height. Most racks are designed to be moved around and hold 3 times or a greater number of basketballs. This product is very different from those and has a useful feeder and release system that's practical too.
The Knape & Vogt John Sterling Sports Rack is another interesting design for a rack. It's not specifically designed for basketballs, so it will handle other balls from a wide range of sports like soccer, and by and include follers too.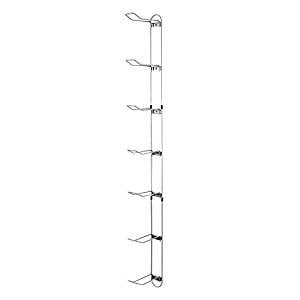 This is another wall rack, but it is designed to hold 7 different types of balls. They each have their self-sustaining mini-stand, so there's no ball release at the top of the bottom.
Each ball can be pulled out independently from the other which is a useful design when storing basketballs, soccer balls, rugby balls, and other types with this sports rack.
The design is also compactly done, so when fixed to the wall, it doesn't stick out that far to cause an obstruction or make it a problem for people walking past. The affordability of the 7-ball system makes it possible to have racks set up on either end of the long gym wall to make balls more accessible too.
It's also possible to install two of these racks next to each other. For kids and juniors, this provides greater access to balls at the lower end of both racks and twice the total capacity at their height level too.
While traditionally this rack gets positioned horizontally, it actually can divide into three sections and be screwed to the wall in different places. In situations where only a couple of balls at a time are needed at specific locations, this provides added flexibility that was unexpected.
This is a good thing because the connectors between each metal section are only plastic and tend to break. Both of the wall-based rack products under review suffered from a similar issue in this regard. Again, it isn't a problem once you know about it.
Best Basketball Racks Buyer's Guide
Certain criteria are important when thinking about the best basketball rack and trying to decide which one to purchase for home use, in the gym as a PE teacher at school, or for the local basketball team.
In this part of the guide, we run through how to decide what you should be looking for and break down your options.
Wall Storage Racks
Wall storage racks are usually one column that can be fitted to most walls and hold a handful of basketballs.
Typically, four basketballs are one time is the standard design, but some racks can handle up to 7 balls without difficulty (we have reviewed both 4-ball and 7 7-ball storage racks).
The design is usually a wireframe made from steel with a system where balls are added to the top and retrieved later either at the top or the bottom.
Gravity causes the remaining balls to move to the most downward position when removing a basketball from the bottom. This then leaves a space to fill at the top section.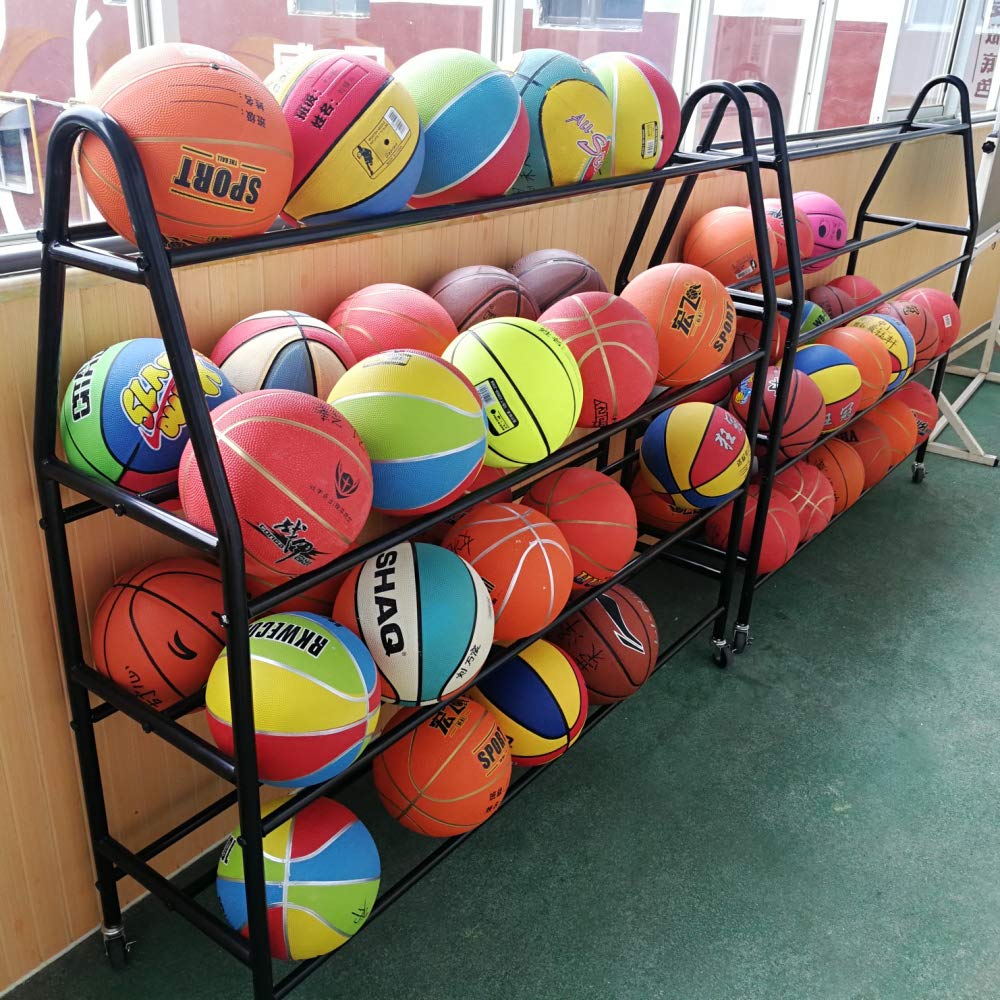 Some wall storage racks can be split into sections and attached to a wall in different locations too. The backing on the racks tends to be poorly done (usually just plastic which holds each section together and can snap off).
However, the metal racks themselves are sturdy enough with each section fitting separately to a wall without difficulty.
Storage Cages
Storage cages (instead of racks) are a way to go for people who need to store many basketballs and other balls in position unattended.
These are steel cages that may or may not be fitted with castor wheels for easier movement. They have a lid with the ability to attach a padlock for security.
A cage-like this holds upwards of 30 balls of different sizes in one place. The bars are not too widely spaced, so a regulation-size basketball cannot fit through the bars at any place.
Storage Racks
Storage racks include carts as well. Both are usually multi-level affairs with around four basketballs stored at each level.
The lower level is useful for juniors at school to reach whereas the higher levels are better for taller ballers at school or college.
These types of racks are open open-fronted and easy to access. They offer no security benefits at all. The idea here is that the carrying capacity of up to 12 basketballs gets locked away when unattended.
Usually, the rack has castor wheels and not only can be wheeled out onto the basketball court as needed but pushed straight into the storage locker to secure the rack and its cargo overnight.
Which Rack, Cart, or Cage is Best for You?
That depends on your requirements. If you do not have a secure locker or storage room for sports gear and need security in place, then the cage is going to be ideal.
However, when requiring open-fronted access to multiple basketballs at once, then you cannot beat the accessibility and portability of a storage rack solution for ballers.
Conclusion
With a basketball rack, it's important to decide right away whether you need to store 4, 7, 12, or 30 balls. The answer to this partly determines the type of rack (or cart) that you'll choose.
Some systems for holding a collection of basketballs only store a few and are perhaps best used right near the court to provide easy access to new basketballs.
This avoids losing time repeatedly acting like ball boys collecting stray basketballs which stops practice each time it happens.
Some racks fit walls, in one or more parts, which is suitable for people who only need access to a few balls at a time.
When wanting a team to go get a ball for the practice session, then the maximum holding capacity of 12 balls in several racks may or may not be enough.
In many cases, PE teachers arrange to have several of these racks side-by-side to have enough capacity.
Alternatively, it's possible to choose a steel storage cage to hold around 30 balls and lock them up securely overnight too, which was a feature of the Trigon Sports Pro cage HD product that was lacking in all the others.
When security is paramount, this would be the one to get to prevent the theft t of basketballs overnight.
Related Post