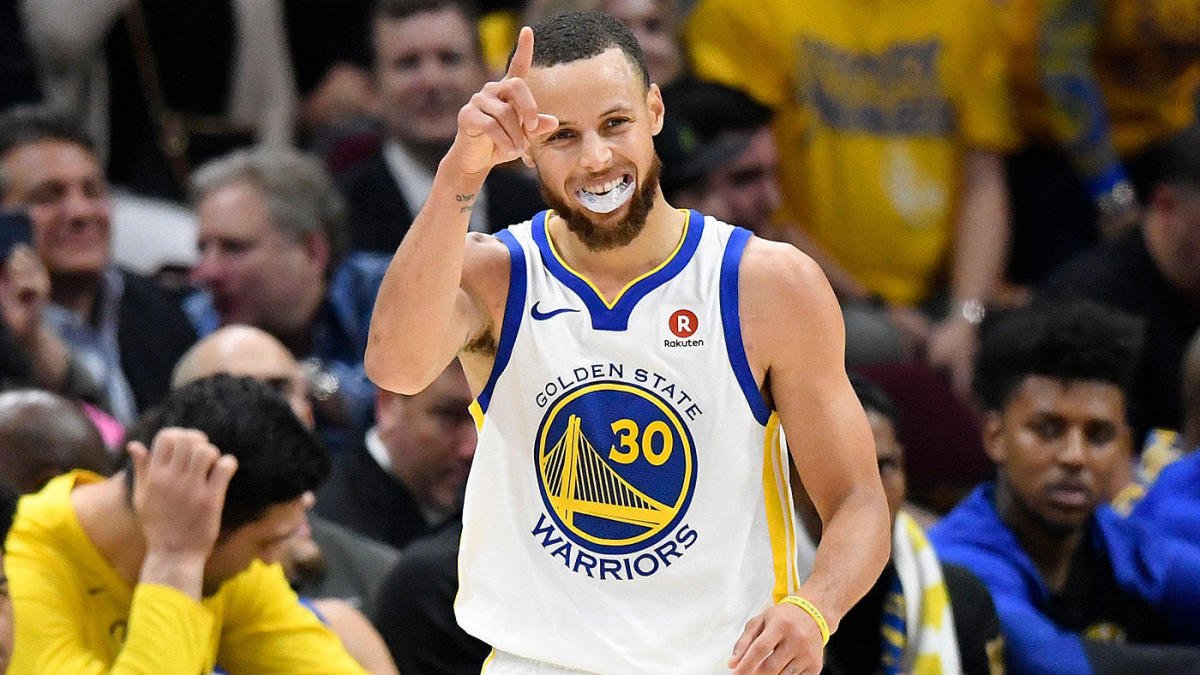 Best Basketball Mouthguard For Braces
No basketball player would have a complete uniform if they weren't wearing a basketball mouthguard too. Mouthguards aren't just for boxers either, because it's very easy for two basketball players to collide in the air and at least one to lose a front tooth in the collision.
Wearing a well-fitting mouthguard offers protection against teeth, gum, and jaw damage – some of the most vulnerable areas on the human body.
In particular, jaws are very finickity and once damaged, tend to click and get out of alignment repeatedly even with chiropractic care. Anything that can be done to avoid damaging them is essential as far as most sporting players are concerned.
It doesn't just matter about having a decent mouth guard either. A poorly fitting one is almost as bad as not having one at all because an impact can cause it to shift, pushing back the teeth and impacting the gums too.
The support to the jaw is also eliminated. Therefore, mouthguards must fit well to be useful to ballers too.
We will be reviewing several mouthguards to see which one is the best in the market. However, before we do that, our basketball expert team (directly below) provides some pointers on what you should consider when picking a mouthguard product.
What Do You Need to Know When Buying the Best Basketball Mouthguard?
The most important thing to always remember, as we touched on in our introduction to this guide, is that wearing someone else's mouthguard or using one that isn't fitted for your mouth, teeth, and gum line is a terrible idea.
It is a recipe to make an impact at some stage, has the mouthguard shift position in the mouth, and only makes matters even worse.
Avoid doing this at all costs, even if money is a factor in the decision. Cut costs somewhere else to buy a high-quality mouthguard to get proper protection as you cannot buy another set of real teeth and dental work is very expensive! Heed this warning…
Now onto our guide.
Getting the Size Right
Many, but not all, mouthguards are designed to be moldable. Usually, they are placed in hot (but not boiling) water whereupon they start to become far more pliable.
After being left to sit in water to soften for the amount of time given by the manufacturer, they can be worn, and they begin to mold to the shape of the teeth and gums until the outline is complete.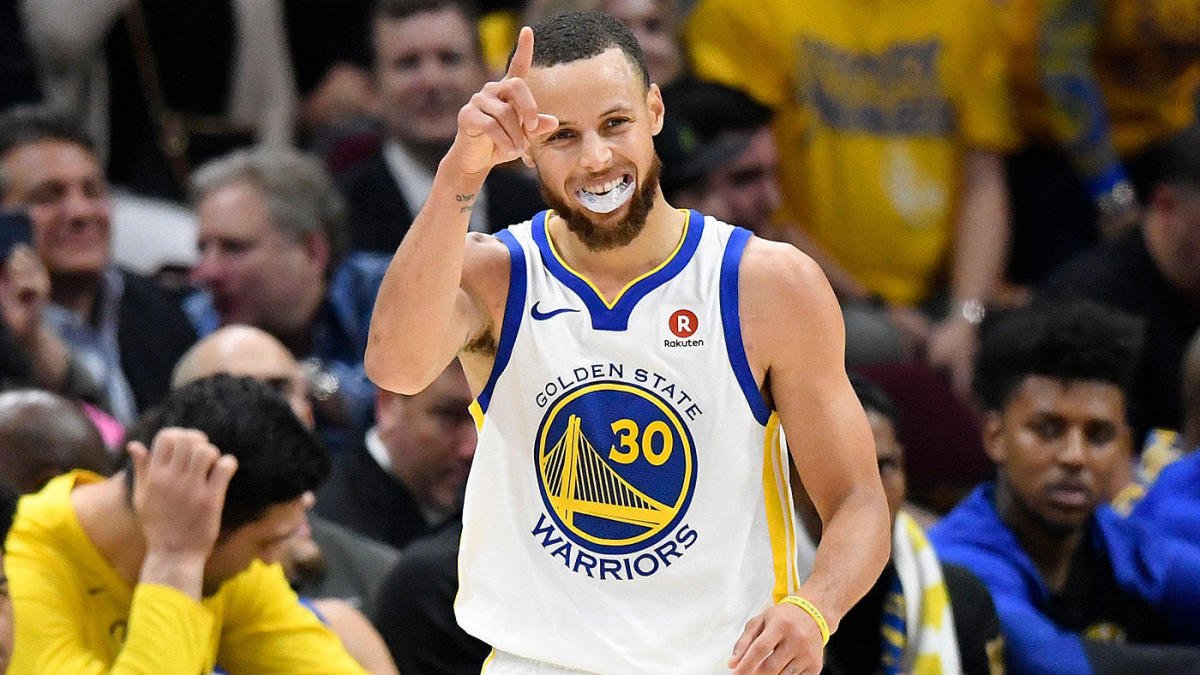 Now bear in mind that because of this shape molding effect, even mouthguards that are intended for 11-year-olds and older can fit an adult.
Therefore, with size considerations, it's not like buying a pair of basketball shorts. Nevertheless, do pay attention to the size of your mouth vs other people to see whether you should order a smaller or oversized mouthguard. Also, consider your age as a size guide too.
Mouthguard Type
There are only two types of mouthguards: moldable ones and those that are pre-molded before purchase.
Either type of mouthguard is suitable for basketball. However, players will eventually decide for themselves which type they prefer and usually will swear by them in the future.
While pre-molded ones won't necessarily fit as well, the moldable ones can adjust their shape somewhat to provide a better fit. Some moldable ones can be repeatedly remolded which helps grow children – other moldable guards can only be shaped once.
Stick to Safe Materials and Manufacturing Methods
Avoid choosing a basketball mouthguard that is inexpensive without any safety tests or FDA approvals. This will be inside your mouth and poor-quality materials; dyes or chemicals can leach into the skin.
The better companies get FDA approval for their products or at a minimum, get their mouthguard products tested for safety.
Pay attention to the materials used. Rubber that's poorly produced can be dangerous to use. Also, consider whether a container is provided to keep the mouthguard clean between uses.
Able to Withstand Shocks
Baseball mouthguards with thick materials tend to absorb more shocks than thinner ones, all things being equal. This is helpful when taking an impact as it prevents the shock from aching the teeth and gums behind the shield.
Can You Function While Wearing It?
A mouthguard should be functional while wearing. This means you can consume a hydrating liquid, breathe through your mouth o,r speak to a trainer while still wearing the guard.
With a comfier mouthguard, it won't be necessary to keep removing it to perform normal functions when not playing.
Our 5 Best Basketball Mouthguards
The Shock Doctor Basketball MouthGuard has models for men, women, and youth. At least the male version comes in five distinct color choices (black, clear, blue, white, and red).
The polymer gel material is clear, but with the various colorings, only perhaps the clear version shows the teeth behind the mouthpiece when it's being worn.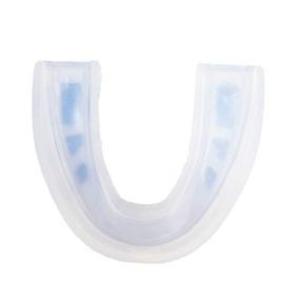 The option of having multiple versions and colors makes this a good choice for people who wish to color-code their sporting attire including their mouthguard too.
The design of the mouthguard protects the teeth but also the jaw too. This is excellent for basketball players that hit the ground too hard and take an elbow to the face from another player.
At that point, you'll be glad that this product offers so much protection. However, being made of gel polymer, it's featherlight and so isn't noticed as something heavy in the mouth. Buy From Walmart
The fitting instructions befuddle quite a few people. The molding effect works with this product, but it's necessary to use warm but not hot. Therefore, when boiling the water first, it's necessary to let it cool off significantly to avoid melting the polymer.
This is not at all unusual for this type of product, but some buyers fail to read the instructions and melt their mouthguard beyond use.
The Shock Doctor brand is also not new. They've been producing protective mouthguards for over 20 years and counting. This provides some reassurance that their branded goods have a solid reputation that they're keen to protect.
Overall, this product offers great design, strong materials, custom molding without boiling water, is lightweight, and, comes in multiple colors and three sizes. Hard to fault any of that.
The Redline Sportswear Custom Molded MoutMouthguard is designed in one size which will suit every adult or a sporting person who's a bit young such as a teen.
The Redline sporting good is provided in a choice of 7 color schemes each with a black frontage along with a different color further back and on the interior of the mouthguard too.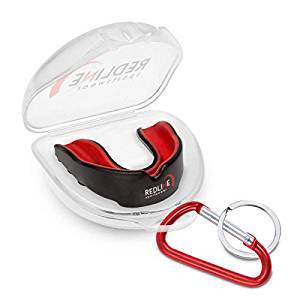 This mouthguard does mo the shape of the mouth. It can be boiled and then left to cool for at least two minutes before fitting.
The adult size will likely fit teenagers but the younger is questionable. It may need trimming here and there when pliable to get a better fit on the youngsters.
The inside of it is open so that different-shaped teeth can fit easily. This also goes for anyone who is currently wearing orthodontic braces because the gap between the front and back of the mouthguard is generous in the design. Buy From Walmart
The materials used for this product have a strong focus on safety. Therefore, it doesn't have latex for people who are allergic to it. It also doesn't use PVC either. Furthermore, there's no BPA used and it's 100% certified by the FDA too.
Whilst this mouthguard is suitable for a baller, it's also wearable for Lacrosse, Hockey, Soccer, Boxing, MMA, and BJJ too. With its design that includes gel, it's soft enough to be worn comfortably for the duration of a sports match or practice in the gym.
There's a clear carry case provided to keep the mouthguard free from germs. It's also attached to a Carabiner and keychain ring to hook the case onto a belt loop or set of keys for convenience.
Overall, this Redline mouthguard uses safe materials, molds well enough to fit better, and comes with a case that conveniently hooks other items.
The Shock Doctor Mouthguard: #1 Sport Mouth Guard is a complex product that's designed to deliver.
First of all, it comes in both non-flavored and flavored versions.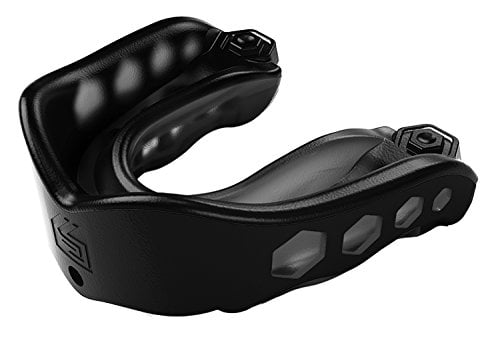 Second, there's a youth version for aged 10 and below and an adult version that fits men and women aged 11 and other.
There are also 16 different colors to truly match the guard's color to the rest of your fighting or sporting colors. Virtually every color of the rainbow is featured here. This mouthguard is designed to be used in Boxing, Basketball, Lacrosse, MMA, and more. There's also a strap for a helmet included too. Buy From Walmart
The guard has an exoskeletal frame built into its design to deal with shocks. It can be expected to provide solid protection for the cheek area, mouth, teeth, and jaw too. There's silicone included in the design which can be molded along with gel on the interior to make it comfortable for the teeth and gums too.
There are special channels included aiding breathing. Speaking through the guard isn't the easiest but at least breathing when the mouth is open is still possible should the nose get blocked.
The molding process requires putting the mouthguard in boiled water for a couple of minutes and then fitting it at that time. When left in the water too long, it will not fit properly leaving gaps that could cause issues during sporting events.
The molding process also removes any potential germs too. Therefore, following the instructions correctly is important here.
Overall, the Shock Doctor Mouthguard number one is one of the best mouthguards available. It comes in two sizes and molds to a suitable shape too. It also has three layers to it for outer protection and inner comfort.
While it won't be suitable for people who wear braces (there are other Shock Doctor models for that), it does come with a flavored or non-flavored version too.
The Nxtrnd Classic Mouth Guard Sports is designed carefully over time to deliver the right kind of mouthguard for discerning sports enthusiasts. The brand which means "Next round" has been around for a while.
The mouthguard comes with two in the box. They're clear and see-through except for the black branding on the front. The product is intended for Basketball, Boxing, MMA, and plenty of other activities too.
The sizing is designed for adults and children from around age 11 and upwards.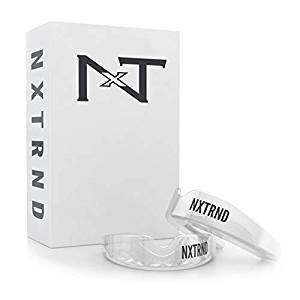 The product is lighter and thinner than the previous model due to requests from customers who inspired this new design. It is moldable by following the instructions provided but afterward, it should snap right into the correct position without any difficulties.
The EVA blended materials are safe to use and designed to avoid cracking when making an impact. Being thinner and less obstructive, it's also easy to be heard clearly when still wearing the mouthguard which cannot be said for all other types. Buy From Walmart
To clean the mouthguard, simply put it under a running tap, dry it and then safely store it in the provided case.
The ProDental Sports Mouth Guards are provided as a twin pack and designed in a clear, easy-fit design. The material is polyvinyl (thermoplastic) which has no taste, doesn't have an odor, comes with an FDA seal of approval, is easy to keep hygienic, and is made in the USA.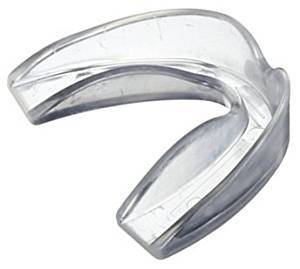 The mouthguard is a clear one, so your teeth are not hidden visually behind an impenetrable wall. Each mouthguard is moldable to the shape of your teeth.
Also, the back of each guard can be trimmed down when it's already reached the back of the molars to avoid hitting the gums at the rear of the mouth. However, it's tall enough to protect the gums too.
The base of the guard (3mm) is intended to protect against shocks.
This mouthguard is often used on the upper teeth as protection against grinding teeth while sleeping. In this case, soaking the guard in a Listerine and water mixture during the day can protect it from the plague built up.
Overall, the ProDental mouthguard is both tasteless and doesn't have a discernable odor. It offers comfort and protection for sportspeople and also those who need to stop grinding their teeth at night.
The company has been producing mouthguards for the other two decades and has strong customer service.
Conclusion
The best basketball mouthguard depends on the size of your mouth and the type that you prefer. Some are thinner and lighter where talking is easier whereas others are a bit heavier but can offer layers of protection.
It may be necessary to buy more than one product to try out different designs to find the one that suits you best.
Related Post