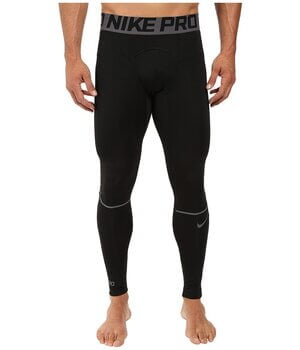 Best Compression Pants For Basketball Players
If you watch any NBA game, you are sure to see plenty of players wearing long shorts or tights. They are usually worn beneath any other shorts that may overlay over the top for a little more discretion (the compression shorts are tight everywhere!).
It's almost as if pro ballers have a competition going on about who can wear the jazziest, eye-catching clothing and keep their sponsors happy.
However, for the rest of us, there are real benefits and extra comforts found when wearing the best compression pants.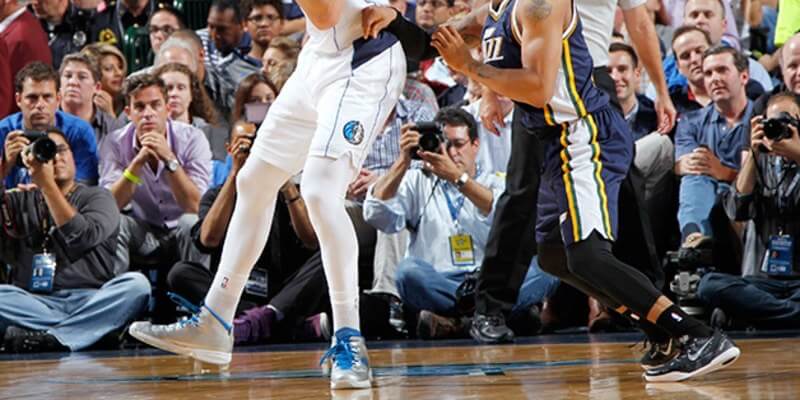 The main physiological benefit is an improvement in blood circulation directly to the muscles which help them stay warm and avoid injuries.
Muscles tend to get stiffer after a hard game but when wearing worn compression pants, this effect is minimized.
Whether you're looking out for Steph Curry or Dwayne Wade, the biggest names often wear compression basketball tights. However, they're also worn as daywear in hot climates such as Florida because of their perspiration-wicking ability to provide better comfort or just convenience.
Some people even say when they wear only compression tights, they almost don't feel like they're wearing anything at all! So, there are certainly plenty of uses for these types of clothing besides just playing on a basketball court. Make no mistake. The Best 5 Basketball Compression Pants For Ballers.
Top 5 Basketball Compression Pants For Basket

ball

Players
The Pro Hyperwarm men's tights reach down typically near the ankles to provide full coverage from your waist down.
They can be worn with some shorts if you prefer, but it's not strictly speaking necessary at all. It depends on how you roll.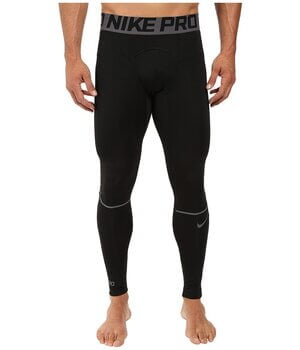 These are designed to keep you warm through their woven material. The mix is 12% elastane and 88% polyester with the elastane (basically 1980s Spandex by another name) is what makes the material stretchy.
It's significantly heavier and denser than some other men's tights on the market. This is intentionally full-length and designed to keep you warmer during wear. As such, they're practical to use on and off the court.
The Dri-FIT technology incorporated into the fabric does its best to wick moisture or body perspiration away. There's a significant degree of compression with these tights too. Buy From Walmart
They will keep you warmer below the waist than other wearable products which is good for colder courts or when wearing them outdoors during the chillier months of the year.
The basketball tights come in black., black, and anthracite mix or white colors. The Nike branding across the pronounced waistband offsets the main color of the tights, so the white shorts see the branding switch to light gray whereas, with the black tights, it's far darker.
From a practical standpoint, the white tights are going to be troublesome to keep clean. They'll pick up marks everywhere and may not be fair as well.
However, the black and anthracite, or pure black tights both will likely be wearable for longer even when they don't look quite as pristine as they did out of the box or packet.
The Pro Tights from Nike are designed to keep athletic men warmer. They aren't as warm as the Hyperwarm tights reviewed above.
It's interesting because they were marketed initially as 'Hypercool' and were later rebranded. But that's apt because they're not the same as the Hyperwarm tights.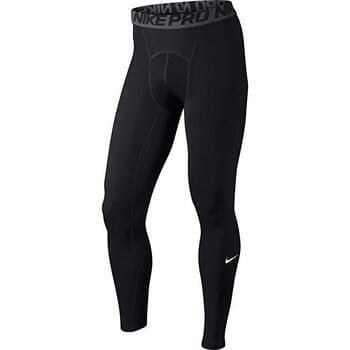 The material mix is slightly different too. Each men's tights have 10% Spandex and 90% Polyester, to make them a little less stretchy. The fabric is a woven type, but it's lightly done and is significantly lighter on the body, especially the thighs, than the Hyperwarm tights.
As a result, for hotter climates and people who heat up faster, they'll find these full-length tights a better option.
Indeed, they are moisture-wicking through the numerous perforations that you can see within the fabric to let moisture get out. This is more pronounced here to keep the temperatures down. Buy From Walmart
There's also a gusset down the inner thigh allowing for more ventilation which hopefully should prevent heat rashes.
There's a good variety of color choices and color schemes here. Either colorful, dark black, or white for a real mix and choice for athletes.
There is a compression effect present too. The inclusion of Spandex to stretch and compress down to hug the body does its work, so your muscles will thank you for the next morning too.
The Men's HeatGear from Under Armour aims to find a neat balance between the different types of Nike Pro tights.
Their tagline gets across that their tights will keep your body cooler.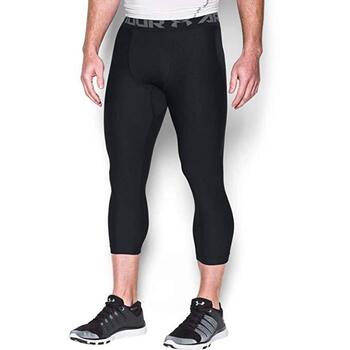 The woven material is certainly thicker and denser without the obvious perforations that the Hypercool-like product from Nike.
However, they're also not as dense with the material as the Nike Hyperwarm product either. As such, they strike a balance between the two in terms of warmth levels.
Compression pants, are fairly close to what you feel with the Nike Hypercool product on your body too.
The design comes in a variety of colors – most of them fairly dark – but these tights can be matched with a top using the same material which either has a similar design or a contrasting color.
There's also been some side effects to avoid rubbing and heat issues. The tights expand as needed. Buy From Walmart
There are no seams in body areas where rubbing often occurs, to avoid soreness. This likely will help the tights not lose their stitching too.
There are gussets and panels which are stretchable to allow for good movement during games.
It also should be noted that the materials wick moisture away very effectively. The material mix is entirely different from that of Nike Pro gear too.
It consists of 21% Elastane and 79% Polyester. Nevertheless, the fabric stretches in all directions to provide a comfortable fit. The compression level isn't particularly strong though.
The Readypard pants are a good length that comes down to below or at the bottom of the calf muscles, so they're not as long as some other pants.
What makes them stand out is their built-in knee pads that can save your knees from abrasions on the basketball court.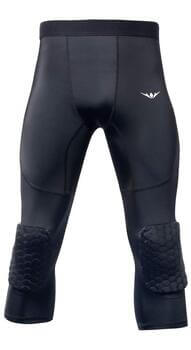 They are only sold in black color and are usually worn beneath a pair of colorful basketball shorts to complete the below-the-waist look.
As your body temperature rises, this fabric mix of Spandex 15% and Polyester 85% tends to get softer to make it more comfortable.
The stretchy Spandex adjusts to your body shape well. Compression levels sit in the middle of what you'd expect.
Breathable and wicking the moisture away, these are an interesting altered at the ¾ leg length with knee protective padding in a honeycomb design.
They won't be for everyone, but they're a good option to have in the marketplace Buy From Walmart
The TSLA brand is focused on sportswear that's affordable and designed well. They're also usually more affordable than Under Armour or Nike too.
The tights usually come down to just above the ankles. They provide good compression levels too.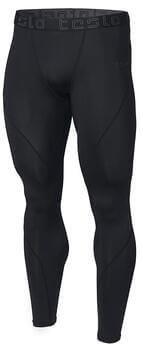 The material has 13% Spandex and 87% Polyester, so it is stretchy enough to accommodate your unique body shape. The fabric is thin and so wicks moisture from your body well.
It is also rated as UPF 50+, so it removes up to 99 percent of harmful UV rays when exercising outside too.
The design includes flat-lock seams to provide a near-seamless feel when wearing them. The pattern on the fabric looks ergonomic and sleek.
There are also multiple mesh panels to allow greater ventilation which is something you see in other compression shorts too.
Buy From Walmart
The elasticated wide band at the waist ensures that the tights won't either roll or slide down the upper legs during use. They stay in place well.
There's also a variety of color choices available which is wider than you usually see with this kind of gear. The manufacturer also produces other sporting garments to get a complete ensemble going on.
These tights are more like the cooler tights from Nike than they are the Hyperwarm ones. They are best used for people who get hot more easily or who plan to use them for outdoor exercise or activities in hot weather.
They don't offer the same level of compression as some brands, but this also makes them perhaps best as an all-around skin-like clothing option.
Why Should You Wear Compression Pants?
There are different benefits to wearing basketball compression pants either on the court or in everyday casual wear.
Ease Muscle Stiffness
The use of compression through the Spandex in the fabric improves the circulation of blood through the body, especially the muscles.
This helps the muscles to avoid becoming stiff after the game which then starts to come on. Tired muscles have been found to recover faster when wearing basketball compression pants or leggings too.
Keep Consistently Warmer
The mixture of Spandex and woven polyester provides comfortable warmth. This warm temperature provides a consistency that allows you to focus on what you're doing at that moment and nothing else.
When cooling down after a game, you don't get the chills in your body. And when venturing outside, they insulate you from the outdoor temperature which may be bracing.
This has the added benefit of avoiding the likelihood of getting sick as often caused by repeated and sudden changes in temperature during the colder months.
Wick Away Moisture to Avoid Being Uncomfortable During a Game
All the products reviewed successfully wick moisture from the body. This is done through a woven fabric that lets moisture escape more easily.
This is much preferred to avoid heat getting trapped beneath clothing and fabric rubbing on sensitive areas causing sores to develop.
There are usually mesh areas or gussets that provide extra ventilation in the spots that are most likely to normally get too hot and see heat get trapped there.
Like a Second Skin on Your Body
The compression tights are thin enough and cover enough of your body that it often is said to feel like a second skin.
Sometimes, the fit is so comfy that it's easy to forget you're even wearing these types of tights. Men tend to be used to looser-fitting clothing compared to women, so this is something new for many buyers to adjust to. However, once adjusted, it becomes second nature.
Convenience Everyday Wear
Basketball Compression pants aren't just for ballers. They can be worn to play other sports or just to walk around outside.
Many people use them when they go hiking to avoid scratches on their legs. Given that most are full-length or at least ¾ length, they protect from mosquito bites when outdoors too. It's often surprising how flexible tights are for men.
They end up often using them for a variety of activities simply because they're so comfortable as an undergarment beneath a pair of jeans or shorts.
Conclusion
Compression tights, each have a slightly different compression level. It's important to get the right fit for your body, so pay attention to the choices with sizing to get it right. Some shorts use thicker and heavier materials.
This helps to keep you warmer but if you overheat more easily, they maybe should be avoided in lieu of tights.
The thinner ones won't be as warm but they're likely to wick moisture more effectively as they'll have fabric that ventilates a bit easier as a result.
Thinner basketball tights won't last forever in the wash, so expect to replace them every half year or year because thinner fabric naturally is not going to be as durable as, say, a pair of blue jeans.
Expectations should be set accordingly to avoid disappointment. It does depend both on the amount of usage and how frequently those compression tights are washed as to how long they'll last.
It's debatable whether you'll get longer out of a big brand like Nike vs a lesser-known or new brand. However, compression tights offer excellent value for money for what they provide the sporting wearer or the casual wearer alike.
Related Post