The socks worn by basketball players have changed over time. Once, players would load up on two or three pairs at a time to gain protection from the intense stop-and-go movement of a basketball game.
Players have used their socks to make statements. Socks are color stripped to match uniforms. There is the black-on-black motif, where black socks are worn to accent black sneakers.
Of course, a basketball nostalgist will fondly remember the baggy, stretched-out clump of socks at the ankles of the great Pistol Pete Maravich. Basketball socks have evolved. The socks athletes wear can still make a personal statement.
Many socks have different basketball things imprinted into the socks. You can also find varieties of basketball socks that are endorsed by professional basketball players.
However, most importantly, they are now designed to provide maximum comfort and enhance performance.
Basketball socks can help keep your feet dry and avoid painful blisters. Many of the best basketball socks use a blend of synthetic materials with elasticity in strategic places.
Using constantly improving technology, basketball socks can help reduce fatigue lower leg and foot fatigue.
But, how do you figure out which pair is better? Here are five fantastic basketball socks, followed by our buyer's guide to help you select the best pair of socks for your game.
Top 5 Best Performance Basketball Socks For Youth
Our first pair of socks that you'll find are great for basketball players is from the Nike athletic sock line. They are versatile socks that can also work very well for various types of athletic training or as casual socks to accent any sporty attire.
These socks span the front of your shin to help add important support to this portion of your lower leg. This is a useful feature to help keep your ankles and calves invigorated as you pound up and down the basketball court.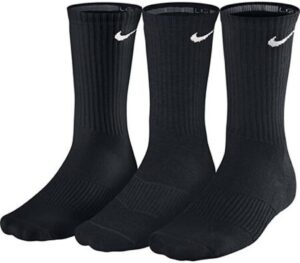 The Nike Performance Crew Training Socks are extremely durable. They will endure hundreds of spins through your washing machine and come back ready for the next game. The price is right for these socks as well.
They make a perfect addition to your equipment inventory because you can change them out after a hard practice or even in the middle of a game. They are heavy cotton-based socks that don't breathe quite as well as socks that use Dri-Fit Technology™.
Nevertheless, Nike uses a cotton-knit blend in these socks to bring breathability to an acceptable level. These socks are reinforced at the heel and across the toes. There is a fair amount of elasticity in the arch area to help provide better support.
When you pull your first pair of Nike Elite Basketball Crew Socks out of the package, you're going to notice something immediately. These socks are designed to fit each foot specifically, left and right.
There aren't many basketball socks that can claim to offer this advantage. Nike also added cushioning to places that receive the harshest pounding on the basketball court.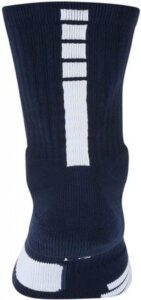 One of the key areas in which they added extra tight compression was across the arch. This helps keep your foot secure during cuts and changes in direction. The Nike Elites are made using a tough but comfortable fabric.
You won't be wearing holes in these socks halfway through a search. The custom cut for each foot is great. However, Nike also didn't add bulky seams to the end of the socks, so they won't scrunch up around your toes.
One thing to be aware of when you're considering this particular basketball sock is that they are customarily sold in single packs. When you decide to choose the Nike Elite Basketball sock you are applying performance needs over price.
These socks use a lightweight fabric to eliminate bulk around your toes and at the ankle. They also have a Y-cut heel design that helps to limit slipping. There are also four different sizes of the Nike Elite Basketball Sock, so you'll be wearing a sock that fits your foot securely.
Our next pair on your list of the best basketball socks is from Under Armour. Under Armour uses a similar fabric blend that has proven successful in other athletic apparel they market. These socks are a mix of cotton and synthetics.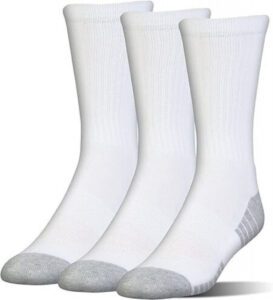 The combination gives these socks excellent durability, but they also allow free movement at the foot and ankle.
With a percentage of synthetics integrated into the base cotton fabric, the Heatgear Tech Crew Socks keep your feet cool.
These are an excellent choice for someone who sweats a lot. They wick away moisture from your feet, helping the stay cool and comfortable throughout the game. There is compression added across the arch to help add support.
Along with the cushion points under your toes and heel, these socks are excellent for helping you're you'd foot fatigue. The Under Armour Heatgear Tech Crew Socks have a narrower cut across the toe area, so they are excellent for narrow feet.
This extra cushioning, combined with the elasticity of the synthetic material across the foot portion of the sock, helps it to sit-stay in place. They are not prone to bunching up inside your sneakers, which is important for all the cutting and pivoting in a basketball game.
The percentage of cotton in a basketball sock is important. JHM has blended the perfect combination of fabrics into the Sport cushion Elite Basketball Compression Socks. They with 85 percent cotton and add 10 percent nylon and 5 percent spandex.
By keeping the core fabric as cotton, the socks are comfortable, fresh, and out of the package, and they stay that way for a long time. The fabric material is also what gives the JHM Elite's Dry Moisture Technology.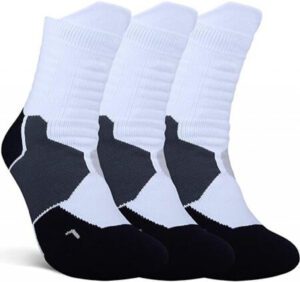 The fibers wick moisture away from your feet to keep them feeling fresh and vibrant. They also include places where there is mesh ventilation to improve airflow.
This helps keep your feet from getting overly hot in places where blisters could develop.
These basketball socks offer excellent ventilation to help keep your feet cool. However, the JHM Elites have some of the thickest cushioning.
They can feel like walking on snug-fitting pillows. The JHM Elite Compression Socks apply compression pressure around the arch of your foot.
This helps to give you a sense of secure footing, plus helps prevent arch soreness from the pounding you get on the hardcore courts will be happy to know this sock comes in 15 different color combinations.
Another nice thing is that you can purchase these socks in three-pair packages. Plus, if you want some variety in your color choices, JHM also offers a five-pair multi-colored pack.
ChalkTalkSports was founded in a mom's garage. This is a family business that designed a sock out of the hands-on athletic experience. These are not your everyday conventional basketball socks.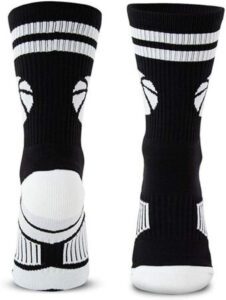 One look and you immediately see that they were made with basketball players in mind. The socks come in a huge array of colors, but the biggest you'll notice is the basketball embedded in the socks.
ChalkTalkSports Basketball Woven Mid-Calf socks are extremely high-quality. The fabric and design of these socks are meant to keep your feet fresh and vibrant for the whole game.
They are comfortable around the toes and across the heel, which is great for the cutting and pivoting moves of basketball.
There is also extra cushioning in the footbed to help soak up the impact of pounding up and down on a basketball court. Each pair of ChalkTalkSports basketball socks uses special material to keep your feet dry.
RUNTECHNOLOGY® moisture-wicking is used across the places on your foot that continually experience heat during the game. This not only helps keep your feet comfortably dry, but it helps eliminate the chance of heat blisters.
The upper portion of the socks use perfectly dispersed compression technology to help keep your ankles and lower leg invigorated.
ChalkTalkSports made sure they gave the socks enough elasticity to stay secure so they don't sag, but not so much that they chat comfortably and restrict circulation.
Your Buyer's Guide for the Best Basketball Socks
Putting the right sneakers on your feet is important for basketball performance. However, inside the best basketball shoe is a pair of socks.
You can spend a lot of money on the highest quality shoe, but lose much of the benefit by stuffing them with cheap socks.
To keep your feet comfortable and avoid agonizing blisters, you need to focus as much attention on blending a good combination of shoes and socks. We'll leave your choice of basketball sneakers up to you.
Nevertheless, we want to share some tips on putting the best basketball socks on your feet. Here are a few suggestions you can use as your buyer's guide.
Fit
You want to avoid a sock that boasts too heavily that they are one-size-fits-all. Most socks designate a size range for socks that at least divides divide to two categories. One is for average-size feet and the other will be for extra-large sizes.
An even more important aspect of fit is the design. The socks we have offered as good choices all have compression points across the arch. When the socks have this type of feature, it will be easier to make sure they fit securely.
Pistol Pete's baggy socks are legendary. But the fit players got from the old style of basketball socks did socks benefit from extensive research. Now, compression in certain areas helps socks fit securely and for a purpose.
Material
You also want to pay attention to the material used. Socks that advertise as beinasool-dry may have a high level of polyester or synthetic.
When socks rely heavily on these materials, they will make your feet sweat. You want a sock that has a healthy percentage of cotton.
There is going to be a level of spandex or nylon inherent in basketball socks that have a compression quality.
An 85 percent cotton basketball sock with a percentage of synthetic material to allow for airflow and compression is the best choice.
That doesn't mean that socks with a low percentage of cotton are bad. If you don't suffer from a high tendency to blister, socks that are all synthetic are a viable option.
When you're looking at the material composition of your basketball socks, take into account how your feet react during a game.
Support
Your shoes are going to be what you rely on to provide most of the support for your feet and ankles. Nevertheless, a good basketball sock can improve support and help prevent injury.
Basketball socks that apply compression across the arch can help reduce foot fatigue. In addition, a secure fit around the ankle can offer additional support to mid-cut and high-top basketball shoes.
The idea of adding compression from the top of your ankle to a portion of your lower leg is to help eliminate fatigue.
When the muscles are your ankles and calves get tired, you could be more prone to twisting an ankle. Socks won't completely prevent ankle injuries, but they can help reduce the risk.
Seams
Where the socks are sewn together is another critical feature to check. Many cheaper basketball socks are sewn strangely in places.
While it may appear to be stitching used to reinforce the socks, most of the time it is a technique necessary to secure inferior materials.
When you begin by getting socks with a good blend of materials and support, you'll probably find they are stitched in the right places.
You want to avoid bulky seams across your toes and on either side of your ankle.
Good socks are manufactured using only necessary seams, especially in places where you don't want them to bulk up.
Make sure you don't sacrifice your feet by buying a pair of socks that are poorly manufactured.
These are the four top criteria to help you avoid getting socks that fit poorly or prevent your feet from staying vigorously energized.
While not as important, you can pick socks with different cuts, low, mid-cut, or high, plus many offer a wealth of color choices.
Conclusion
The key thing to remember is that what you put on your feet before you put them in your basketball shoes is almost as important as the shoes themselves.
Good socks won't compensate for bad shoes, but a bad pair of socks can ruin the best basketball sneakers.
Now you're armed with the information you need to make sure you put the best basketball socks on your feet before you put your feet in your best basketball sneakers. The idea may seem tricky. But, it's just applying some common sense principles about your feet.
As we mentioned, shoes are very important, but so are your socks. Scrunched-up side the best pair of shoes will cause a myriad of foot problems.
For basketball players, the most disruptive are blisters. Poor socks can apply pressure points that make your feet hurt unnecessarily.
Good socks may not be a 100 percent guarantee that you won't have to address some foot issues from the hard pounding your feet take from running up and down a basketball court. Nevertheless, good socks will help, and they can help a lot.
We've given you five solid choices to pick from that will help you with your sock search. Each of these basketball socks will provide support for your feet in the right places, plus help keep them cool and energized.
Try out one more of these suggestions and worry about your jump shot and not your sore feet.
Related Post