Basketball arm sleeves have been growing in usage over the last few years. Some are compression sleeves and others are used mostly to wick away moisture build-up or cover up unsightly or potentially offensive tattoos.
Players in the NBA practice and play ball often enough that they sustain injuries to their elbow joints from repetitive use and from falls during a game too.
Wearing a compression sleeve over their elbow helps to keep the joint warmer to reduce the level of fatigue and keep the muscles warm to help them work better.
Some sleeves also have padding on the underside which helps when sliding on the court or falling.
Fewer bones get broken or elbows put out of alignment when supportive padding is provided. The padding even has rubber grips sometimes to prevent sliding too.
For regular players, the protection offered by compression arm sleeves for ballers is useful.
They also have different designs that add a new element to the game outfit when playing a game of pickup or a full basketball match at a local court.
Champs Hoops experts mention below the benefits of wearing sleeves during matches.
Why Do Basketball Players Wear Arm Sleeves?
Wearing an arm sleeve is done for one of several reasons. Sometimes the reasons overlap and other times they do not:
Fashion
Wearing a sleeve for fashion can be because they look cool to your eye or your teammates or friends are all wearing them, and you don't want to be the odd one out.
UV protection 
Protecting from the sun when playing on an outdoor court is a real concern. For anyone with fair skin who burns easily or wants to spurn the risk of skin cancer, then wearing a sleeve on both arms helps avoid getting a tan.
Many sleeves are pre-treated with UV absorption to prevent the arm from heating up or being affected.
Tattoos
Some schools and scheduled matches do not permit players with a full-arm tattoo because it breaches their rules.
To get around this, a player can wear a basketball arm sleeve to cover their arm from below the t-shirt short sleeve down to just above their hands.
Post-injury
Anyone who's strained an elbow, or a ligament or even gotten a skin burn from sliding on the court can benefit from wearing an arm sleeve.
It protects the affected area and keeps the ligaments and muscles warmer.
Compression
When compression is needed to avoid pain or injury happening, an arm sleeve can achieve that result.
Wearing a sleeve even before any injury has occurred avoids developing a problem after hours of play or regular basketball matches. Compression also helps when the muscle fibers are pushed down because they respond more quickly to movement.
The cold 
Playing outside when the sun goes down or on a cloudy day can get chilly on the extremities when you don't have a suitable long sleeve t-shirt or basketball top.
Wearing an arm sleeve prevents getting the chills during play and possibly getting ill as a result.
Here Are The 5 Best Arm Sleeves For Basketball Players:
Mcdavid 6500 Hex Padded
The McDavid 6500 Sleeve slips over either arm easily and fits snugly. It has a padded elbow to prevent scraps from hard falls with padding in a hex shape for better traction and early sliding stops.
This basketball arm sleeve is suitable for basketball, but also American football, soccer, and baseball too.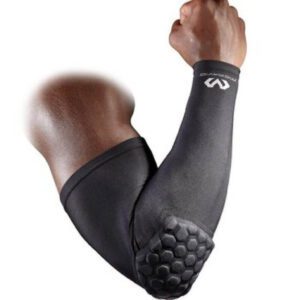 The sleeve is sold in small, medium, and large sizes to suit different arm sizes, along with a youth size too.
There are 10 color choices which are mostly solid color designs except for the grid one which looks dark and very high-tech.
The product is made from a combination of spandex to give it stretchiness and cinching capability and nylon in an 80/20 mix.
Moisture control via wicking is present to prevent the arm and elbow from getting too damp. The slide on the sleeve is easily washable and dries in no time.
The hex-shaped padding is 9mm per hex symbol and is positioned right below the elbow for maximum protection.
Nextgen Sports
The Nexxgen Arm sleeve for compression is designed to suit just about everyone! It comes in 40 different color combinations/styles with either two-color or three-color designs.
Often, there is one solid color and a boxed pattern along the side of the arm which is attractive.
While reviewed for use during basketball play here, these arm sleeves are intended as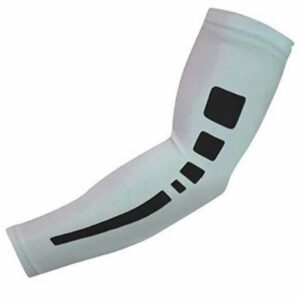 general apparel sleeves to be worn by men or women while playing American football, soccer, cycling, baseball, volleyball, or cycling.
They're also long enough to cover over most of a full-sleeve tattoo if you have one that rules you out of playing ball at school or on a local court. For suffers from lymphedema, these sleeves also work for that condition too.
Each of the designs is vibrant and colorful. They certainly help you stand out on any basketball court.
There are three sizes currently available: Youth medium, youth larger, and large. However, small, medium and XL are sometimes available too.
Buchwald Sports
The Buchwald arm sleeve provides compression for the elbow and arms both for youth players and adults alike.
There are scores and scores of different color combinations all mostly with a digital camo appearance. Very trendy and cool-looking too.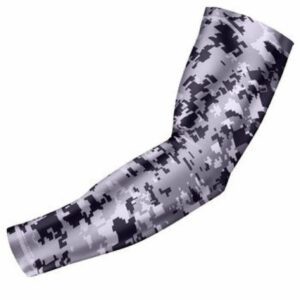 There's a full range of sizes on offer too. These run from youth size in small, medium, and large, to adult ones also in small, medium, and large.
There are no XL sizes for people with bigger arms. However, the largest supported bicep for adults is 17 inches, and the smallest, 10-inches. For the youth market, the largest bicep size is 9 inches, and the smallest, 6-inches.
The material is made from 20 percent Spandex and 80 percent polyester which makes for a stretchy yet comfortable fit.
There's also a convenient silicone band around the top and bottom of each sleeve to ensure it stays in place during energetic use.
There's moisture-wicking technology deployed here too, so the sleeve doesn't cause your arm or elbow to get overheated during sports. It also has UV protection built-in too.
The sleeve is not only designed for basketball but also can be used for tennis, bowling, volleyball, cycling, running, walking, soccer and baseball. Golf is included in supported sports too.
Aegend Arm Sleeves
The Legend Arm Sleeve is a full-color UV protective product that is available in medium, large, and XL sizes (one of the few that have an XL size).
It doesn't come with a fancy design – most color choices are on the darker side – but it's more discrete which certainly will suit some buyers no end.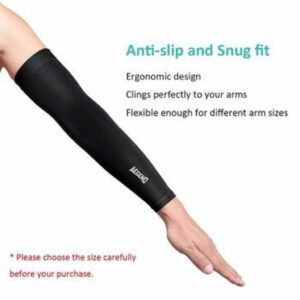 The fabric used is a little different from other products too. There's 12 percent Spandex (not the more usual 20%) and polyamide fiber makes up the other 88%.
This creates a softer feel for people with sensitive skin or skin conditions who also would like to use this kind of product.
The sleeve is elastic enough to stretch and adjust to the size of the bicep. There's no pilling from use over time either. It breathes well and while trapping moisture initially, it wicks it out quite well too.
Machine washing is not suggested; hand washing is a better idea. Bleach will damage this fabric. They will dry on the line and to preserve both the coloring and branding at the narrowed part of the product, reverse them to protect it.
There is extra attention paid to the stitching here to hold up better. Gels have been sewn inside the sleeve at either end to prevent it from slipping on the arm.
The sleeve comes pre-treated for UV with an absorber that keeps the sun away from your arm when playing on outdoor basketball courts.
The level of compression is good, but not excessive around the elbow, forearm, and bicep areas. It's likely to keep the muscles in those places warmer, promote better blood flow, and avoid swelling.
Nike Men's Pro Combat Elite Sleeve
The Nike Pro Combat Elite for the gentlemen is available in small, medium, large, and XL sizes. There are five color choices including a couple of bright ones and mostly darker choices after that.
The design has a boxy pattern down the side of the sleeve to give it some differentiation from a plain sleeve.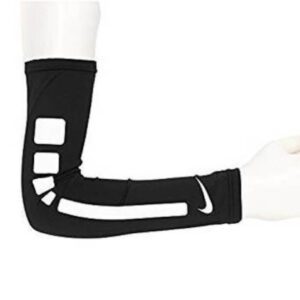 The soft fabric uses Nike's Dri-FIT moisture-wicking feature to avoid it getting overly hot during use. There's no elbow padding or specific support in this area.
The arm, elbow, and muscles will benefit from feeling warmer and more secure. The compression support is present, but it shouldn't be expected to be as strong as with some other branded arm sleeves on the market.
This sleeve can be washed in the machine without damaging its fabric and hopefully, the design on the side of the sleeves won't wear off too quickly when doing so.
What to Look for When Choosing the Best Arm Sleeves?
There are a few things to consider when choosing a shooting sleeve.
Design

– How does it look, and will you feel happy wearing it?

Compression

– Does the sleeve have enough compression for your needs?

Fit

– Will it fit snugly to your arm and isn't too large or too small for the size of your bicep?

Secure position

– Does it have silicone or another material at the top and bottom to help keep the sleeve in place?

UV Protection

– Will it shield your arm from the sun's rays when playing outside?

Injury

– Does it have enough support and comfort to protect you when you already have an injury to the affected areas?

Elbow padding

– Do you need a padding elbow to provide extra protection when slipping and falling on a hard, court surface?

Wicking

– Does it successfully wick moisture away or get hot and uncomfortable during sports?

Washable

– Can it be machine washed or does it have to be hand washed and drip-dried? Special fabrics sometimes need hand washing to avoid damaging them.

Brand

– Is it a dependable brand you can trust?
Please note that basketball arm sleeves are usually sold individually, not as a pair.
Conclusion
When buying the best arm sleeves (or one to use for another sport) you should first decide how much the compression technology matters to you.
Some people only buy these sleeves to cover up a full-arm tattoo or for a fashion statement during play. Other people require medium to full compression support from a sleeve and need to prioritize this aspect.
A padded elbow to protect a little from falls on the court is another important factor too. Few products provide this at all, so when you require this feature, it makes picking the right sleeve for you pretty easy.
If you choose the kind of arm sleeve to suit your needs, it's hard to go wrong.
Related Gears & Training Tips:-