The trouble with basketballs is that the adult, NBA regulation-sized ones are usually too large for most standard backpacks. Indeed, backpacks aren't shaped in a way to hold an object that's as tall as it is wide or deep.
When ballers make the mistake of trying to stuff their ball into a standard daypack or backpack, they end up splitting the seams or breaking the zipper as a result, more than often.
Even an oversized gym bag is not ideal. It's too large to bring comfortably on the subway or other forms of public transport; it doesn't fit on the bicycle rack either. So, while it's surely spacious, it's not designed for ballers and is often abandoned post-purchase because it's too cumbersome.
Thankfully, there are backpacks produced now by many of the same companies behind other basketball-themed gear and apparel that's designed to hold a full-sized basketball.
These backpacks for basketball players have space specifically to hold the ball securely without any security issues. Some are even designed for college or high school ballers who need to pack their laptop and some textbooks too.
Top 5 Best Basketball Backpacks for Players
The Nike Unisex Hoops Elite Pro Basketball Backpack is one of the backpacks that will get you noticed. If you a big Nike fan, then it's hard to argue with the distinct design and brand appeal of this product.
It's available in a choice of two, color schemes: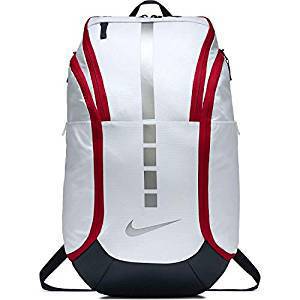 White body with metallic cool grey markings, black straps, red trim, and rear padding for comfort and support.
Black body with darker trim and similar padding with markings. This version is aimed at being more discrete for the wearer.
The main section is the largest with a bigger-than-average compartment to hold the bulkiest items. A separate compartment for basketball shoes is provided which supports up to a generous size 15 shoe size. Buy From Walmart
The compartment also has ventilation built-in to air out your shoes, so they don't get put back in the closet smelling like yesterday's old shoes. A nice extra there.
There's plenty of support for the wearer with Pro Adapt straps for the shoulder to provide support for heavier loads on the move. The top-side loop is ideal for one-handed carrying when not wanting anything on your back slowing you down.
A separate pocket that's lined with foil provides a space for a cold beverage which is protected from eager fingers by a reliable zipper.
The bag is large enough to serve double duty as a school bag to hold books or a basketball depending on the needs of the day.
However, it's also big enough to hold other education-related items. The bag is under two pounds, so it won't be a problem for kids over 10-12 to carry either.
Overall, this bag is light, a delight to wear, holds a basketball discretely, and has a sharp look that kids will love at school.
The Hard Work Sports Basketball Backpack comes with a front netting compartment that holds a basketball nicely. With this design, it doesn't heavily compromise the internal space of the bag or risk a laptop getting crushed either.
However, you'll need to always be aware it's there when carrying the bag to make enough room for the person walking in front of you!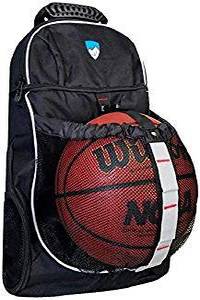 The mesh netting for the ball holder looks durable and it fits a regulation-size basketball. It's secured at the top with a standard plastic clip-on/off mechanism that's simple for kids to use.
Along with the black mesh, there's a series of white strips at the front with a red sewn decorative line to accent it.
The design of this backpack is all black but with white trim on the front and the blue/white Hard Work logo branding near the top.
While the brand is not anywhere near as well known as Nike, it's firmly established as an economic one that shaves money off the price of the bag while not sacrificing comfort.
The straps at the shoulders can be adjusted for size and needs. It's also breathable to help keep cooler in hot weather while wearing the backpack.
A robust-looking top plastic carry handle is present that looks very durable indeed. There's also an easily accessible wide water holder pocket on the right side.
Overall, this backpack is very suitable for ballers who want an accommodating pack that won't crush anything stored inside. The basketball fits outside at the front which leaves plenty of space for other items like textbooks or a laptop too.
It doesn't have big-name branding, however, for that compromise, it does provide excellent value for money. It will hold a Wilson or Spalding NBA ball with ease too.
The Nike Basketball Hoops Elite Max Air Team 2.0 Backpack is a premier basketball backpack with some top features.
It has a single-sized version of men with a back exterior, white piping, and a top, fabric grip handle. The female version has pink accents, the familiar Nike logo on the front of the pack along with other decals on the side, and the zipper too.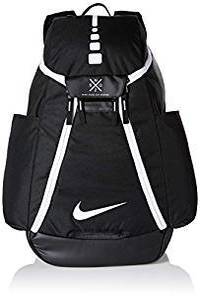 This pack is expensive with a clear center area for the basketball. There's a back sleeve that is suitable to hold a laptop or textbooks for high school or college.
Also, there are two side pockets to hold a water bottle or other loose items – neither have a zipper but use a solid material, not mesh, to hold items in place while the bag is upright.
The zippers are attractive including the color scheme used for the highlight coloration; white for the men and pink for the women. Nike uses their quad zipper design for this pack.
It's intended to allow the bag to be opened up in four directions at the same time (assuming you have four hands to do so or with the help of a friend).
Overfilling this pack tends to see one or more zippers unzip on their own – perhaps a flaw with the design itself or just due to a faulty batch – so buyers should not put too many items in this pack.
There is a degree of water resistance on the bottom of the back. Probably enough to cope with that with an occasional accidental spill on the ground but not dunking the pack in water for a duration. However, it shouldn't be mistaken for a waterproof backpack per se.
There's a small amount of rear padding built into it rather than protruding out the back of it. This is a sleeker design than some other backpacks for sports.
Overall, this backpack is very serviceable without drawing attention to itself. It has many pockets and ample space inside to carry a basketball discretely or other items for school.
The Under Armour SC30 Undeniable Backpack gets the award for the snazziest-looking backpack, that's for sure. The Nike Hoops Elite Hoops Pro surely gets the runner-up prize though.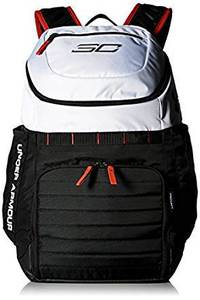 There are several different models with their stylings. Our review model has a black-colored lower section with a white upper section.
The red zippers match the trim on the padded shoulder straps on the back which are mainly white in coloration.
The other models are no less colorful with royal (blue), raisin red, steel, and taxi (looks black and graphite to the eye). All are attractively designed and colored with less showy options for people who don't like to be noticed.
The interior of the Under Armour backpack has a textile lining to keep it smooth and gives the pack a luxurious feeling to it. Touching the interior of the outside bag fabric is usually rough on the fingers, so the lining is a top feature here.
The shoulder pads are ample. They permit a drop below the shoulder of around 18 inches which should be fine for most males. For the female ballers, they have to accept that with a regulation basketball, it's not possible to have a much smaller package that'll fit and leave room for other items too. So, they'll have to handle a bag that's large for their frame unless they're taller than average.
The pack itself is 19.5 inches tall and 12 inches across. Its depth isn't excessive but it's a decent-sized back and will expand considerably when filled out. The pack is heavily water resistant which will help if you get stuck in the rain on the way home from a game or school/college.
The bottom of the bag has a special panel that's designed to protect it from cuts or abrasions that would penetrate the bag. The sewn interior features a foam filling to provide some buffer protection from the outside world too.
For laptop owners, a sleeve that's lined with softer material avoids scratching a MacBook Pro or Microsoft Surface Pro. Also, there's a front zip pocket for valuable items that also has water-repellent properties too.
Overall, this is one of the larger basketball packs you'll find. It not only can store an NBA-certified basketball but a soccer ball (size 5) too (separately, of course).
The laptop support is excellent, and the quick access wide pocket at the front is helpful too. There are two stretchable long side pockets to act as a drink holder too.
The Gofar Lightweight Backpack Large School Bag is striking. It's available either in space grey with wavy orange stripes across its enlarged body or bright cyan with blue stripes across it.
The pack is fabricated in Nylon and has substantial zippers that are easier to grasp and manipulate how you like them. There's no mistaking this Gofar bag – it's made for getting noticed.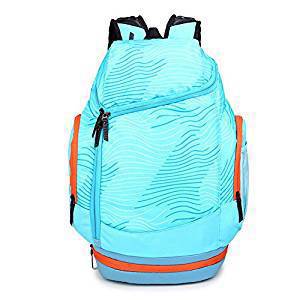 The pack is large enough to hold a regulation basketball as well as a full-size laptop (15.6-inch) or MacBook Pro/Air combo.
It's just over 44 liters internally, so there shouldn't be any problem fitting a laptop or schoolbook along with a basketball (or probably a soccer ball for practice instead).
The shoulder straps are wide, padded, and comfy. They can be adjusted for different-sized chest/body frames or to alter the drop-down from the shoulder to balance the weight more easily.
The bag is not so much for basketball as it will carry a volleyball, soccer ball, or other sports gear that doesn't have sharp edges that could cut its material. It also is ideal for travel – as the product's name suggests – so it's a great bag for all-around use.
There's an external mesh water bottle pocket and several internal pockets – some zipped – to separate different items.
Overall, The Gofar Large school bag is a colorful, economical option that offers much for a reasonable cost. Also, it will resist a little light rain, but it's not waterproof.
What To Look for In Best Backpacks For Basketball
Selecting a backpack to carry your basketball means it has to be a certain minimum size to fit the regulation-sized ball. Anything less won't do.
Once you're past that consideration, then it comes down to materials, design, pockets, back support systems, and so on.
Materials
Most materials with fabrics are made to be tough. They'll be fairly durable over a few months, but it does matter how you treat the pack. If you regularly leave it on the ground or it gets roughed up, then it certainly won't keep its shine for too long.
The majority of branded backpacks use good quality materials and zippers too. How you can tell a low-quality one is that the zips fail quickly, and the bag's materials don't hold up.
Design
You either want a flashy-looking pack with an interesting mix of, or you're wanting to go low-key. Some packs are one-color designs, whereas others will offer several models with the same design but different color schemes.
Number of Pockets
The number of pockets is usually a handful with basketball packs. However, the main focus is the central space or front mesh area to hold the basketball with everything else fitting around that.
Nevertheless, there's often a laptop enclosure, at least one drinks mesh pocket on the side, and possibly a front zippered pocket for easy access items too.
Location of the Basketball
Most of our reviewed backpacks had the ball stored in the interior. A few backs have the ball in a mesh exterior pocket.
The latter design makes more space for items inside the pack but makes it tough to navigate through the hallways at school or college with a basketball extending out in front or back of you. As a result, most people prefer the internal basketball storage option.
Waterproofing
Most backpacks are spill-proof or for minor rain but aren't designed to be waterproof. So, if you're carrying a laptop inside one of the above models, then use a rain cover for it.
Conclusion
There are sports backpacks by Nike, Under Armour, and other huge brands that play on the loyalty to the brand. When you wear Nike sneakers and socks, it makes sense to don a backpack with their "swish" logo too.
There are also backpack producers with less well-known brands that offer most, if not all, the same features for a more reasonable sticker cost. For less brand-centric ballers, these offer great value for money.
Even people devoted to a specific brand, they can pick between different models in the range of the most expensive one is too expensive. We would not advise going too cheap with the best basketball backpacks though.
You'll end up sacrificing materials and zipper quality which will cause the backpack to fail on you much sooner, making it a false economy.
Related Post