Whether you have the difficult weather to deal with outdoors a few months of the year or you just enjoy making use of the space you have indoors, using a mini basketball hoop to play some ball inside your bedroom, living room or home office is just another way to be a baller.
Want to improve your coordination, learn to play with either hand or just keep your fitness up? Playing inside your home has many benefits for improving your game. It's also a very inexpensive sport too.
The Best Mini basketball hoops fit into a bedroom, spare room, or play area without difficulty. They're compact and easy to set up too. Here are 5 recommended products from Champs Hoops experts to consider:
List Of 5 Best Mini Basketball Hoop For Bedroom Wall
SKLZ Pro Mini Basketball Hoop
The SKLZ Pro Basketball Hoop comes with a 5-inch smaller rubber ball to shoot confidently at the hoop. It's ideal for younger kids who don't have big enough hands for a regulation-size basketball just yet.
The product itself comes in standard or XL size options, plus a glow-in-the-dark standard size too for nighttime players.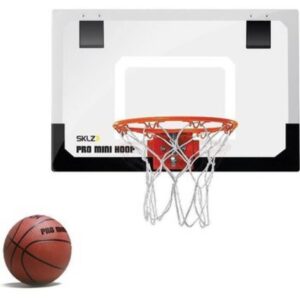 The standard backboard is 18 inches by 12 inches and is transparent to see the door behind.
It's designed to be shatterproof, so a regular-speed rubber ball repeatedly hitting its surface shouldn't do any damage to it.
The ball is packed down upon arrival, so it'll need an air pump to inflate air into it to play with it.
The polymer backboard looks extremely professional with its white backdrop with the black trip at the bottom. It's fitted with metal brackets which avoids making too much sound when playing ball.
The orange 9-inch steel ring with its metal fixing at the back is secure and breaks away when dunking the ball. The spring is strong enough to return the rim to its original position once it has completed the movement.
The white netting has 8 separate loops to stop the ball from escaping through it. Once the ball lands and falls below the rim, it's guided down so it doesn't fly wildly once you've scored the point.
The mounting process is easy enough and fits a door well. There's foam within the fitting system to mitigate backboard impacts and vibration.
This can be a bedroom, a home office, a garage, or another suitable location where it's safe to set up.
The product doesn't come assembled. It must be taken out of the box and assembled carefully, then fitted to the door correctly.
The ball also should be inflated at this time too. Then you'll be ready to play ball indoors.
SKLZ Pro Mini Micro Hoop w/Foam Ball
The SKLZ Pro Mini Micro Hoop is a smaller version compared to the previously reviewed SKLZ model.
It comes with a foam ball instead of a rubber one which may appease worried parents who are concerned about potential damage to the furniture or nearby laptop when playing ball in a bedroom.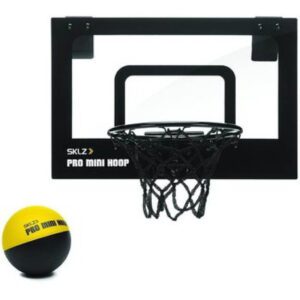 The 4-inch multi-colored basketball is made from lightweight foam, so it's suitable for smaller children to hold in their hands and shoot for the hoop.
The backboard fits the doorframe. Its fitting slides over the top of the door, so it's useful to have a small gap between the top of the bedroom door and the door frame so that it will fit.
The fitting has brackets with foam to create a secure position that doesn't slide or make a sound.
The backboard is made from transparent polycarbonate, so you see the door behind the backboard. It measures 15 inches by 10 inches, so it's a dinky one to shoot for.
Depending on the height of the top of the door, you may be shooting higher to score.
The steel frame is a quality grade. The backboard is bordered by a black trim. There's a metal 8-inch breakaway rim that pops down when successfully making the shot.
The spring action works well and pops the rim back into position without any difficulty. There's a good bounce to the backboard with the foam ball, but it won't bounce as well as when playing with the rubber ball provided with the SKLZ Pro Basketball Hoop.
There's a dark color scheme throughout. Even the basketball net is black to keep with the darker look. The net is made as 3-ply with enough loops to stop the smaller ball from flying all over the bedroom too.
All parts of this product look durable for years of basketball play at home.
Iserlohn Basketball Hoop
The Iserlohn Basketball Hoop is a good alternative to the SKLZ models. It has a similar shatterproof polycarbonate backboard that measures 18 inches by 12 inches.
The backboard has a black trim around the bottom edges and a useful red rectangle above the rim to help with aiming.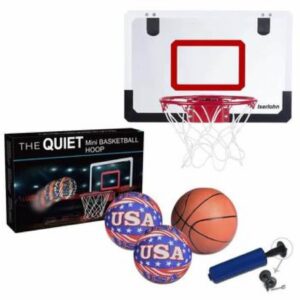 The design of this basketball system is strictly for indoors with placement over the door like with the previous models.
A couple of USA-adorned colorful small basketballs are provided along with a hand pump; they come deflated upon arrival.
These basketballs are produced using an interesting cotton blend making them light, soft, and less likely to damage anything in the bedroom when a shot goes wide off the backboard. There's also a small rubber ball provided too.
Given that the USA balls are made from cotton, there's no bounce to them. So, kids cannot dribble the ball up to the rim at the door.
Therefore, these are more suitable for shooting hoops from the comfort of the bed or desk where school work is regularly completed.
The double spring setup for the 9-inch rim is so it can break away when landing a shot. The rim then springs back into position quickly.
The usual over-the-door fitting is provided here. No surprises and it suits many different door types that have sufficient space between the top of the door and the door frame above it.
This Iserlohn set is intelligently put together. The inclusion of two cotton mini basketballs ensures quiet play for kids who don't always check what time they throw the ball around.
There's also a rubber ball for dribbling to the rim and making a shot too. This product may better suit younger kids that won't be as careful about how or where they throw a rubber or foam basketball.
Play Platoon Basketball Set
The colorful Play Platoon product is designed as a small basketball hoop system to secure the top of the bedroom door. It comes in either a mini or an XL format.
The small product has a 16-inch by 12-inch clear backboard whereas the XL product has a 23-inch by 18-inch shatterproof backboard.
The backboard is clear through, with a red/orange trim surrounding it, angular backboard corners to give it dimension, and an inner rectangular square for aiming.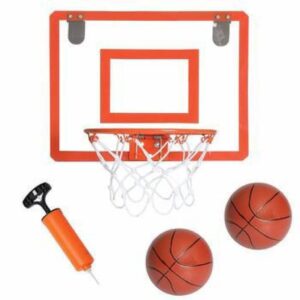 The steel rim also has a red/orange color with a spring-loaded design to dunk and then rebound back into perfect positioning for the next shot.
There are two basketballs provided which are orange with white striping. The white netting has enough looping to prevent balls from escaping when they're dunked for a landing close to the same spot every time.
This avoids an errant ball flying through the rim and escaping.
An orange hand pump is provided to inflate each mini-basketball. Both arrive deflated in the box, so time is needed to add air to them.
The rim has to be screwed into the correct position on the backboard and instructions are provided on how to do this. A kit for mounting the apparatus and fixing everything in place is included.
The backboard must be fitted correctly to the top of the door to avoid it moving around when a mini basketball hits the backboard and bounces off.
Having fun with the Play Platoon Mini or XL mini hoops is a ball. The quality of materials is also up to standard too, which is good to see.
Regular players, they may wish to upgrade to other small basketballs as the ones provided won't last forever; you're mostly paying for the backboard, netting, and fittings here.
A one-year warranty is provided too.
Franklin Basketball Hoop
The Shoot Again Basketball product from Franklin is an altogether different thing. Firstly, it's designed with metal poles on either side supporting fiberglass and a clear backboard.
The backboard does still fit over a door and under the doorframe though, but it looks sturdier in construction.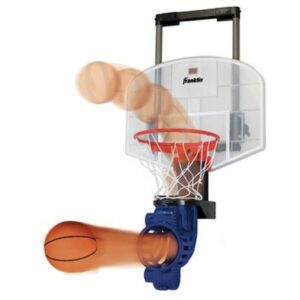 The product design has a larger footprint than other small basketball hoops previously. fiberglass lass backboard itself measures 28 inches by 17 inches.
It has a pleasing curved shape at the top and an angular shape that's different at the bottom of the backboard; so, it's not the typical rectangular shape and has a curved and angular look to it.
There's also a white outline along the side and a square shooting area about the rim to focus on too.
The combined digital time clock and the scoring system just below the fittings at the top of the backboard let the competition go wild by scoring against a friend or family member. You also avoid losing track of time when playing too.
This is an added feature seen on too few mini-basketball hoops. There's even a vocal announcer to make everything more authentic which is a nice touch.
It is worth noting that it might be easy to damage this impacting it with the mini basketball too often.
Below the white netting that captures every ball is a black chute and a blue-colored feeder system that shoots sunk balls right back to the player.
With this system, it's unnecessary to keep fishing around on the floor for balls just as long as you're shooting from directly in front of the feeder otherwise you may have to reach out to catch the ball being shot out of the feeder towards you.
The electronic system needs 4 x C-alkaline batteries to operate which will need replacing the more often you turn on the system and play with it.
Kids may need to be reminded to turn off their mini basketball hoop between sessions to preserve the battery life and possibly invest in some rechargeable batteries.
A single, small foam basketball is provided too. This is a good idea with the feeder system to reduce the chance of causing damage in the bedroom.
Tips To Select Top Mini Indoor Basketball Hoops For Bedroom Wall
There are different factors involved in selecting the top indoor basketball hoop for the bedroom. So, let's break them down for you:
Backboard
The backboard needs to be shatterproof or close to it. The last thing you need is for the backboard to shatter in your child's bedroom possibly getting a shard in their eye.
For this reason, quality backboards are typically made from polycarbonate or fiberglass both of which are highly resistant to impact damage and don't tend to splinter off when damaged.
Backboard markings
Each backboard will have its decoration. This might be a border around the edge for a clear backboard to be more visually obvious where its edges are.
They usually have square or rectangle-shaped markings above the rim to help line up a shot too.
Rims
The metal rim of an indoor basketball hoop is often made from steel to keep it rigid.
It will have hooks on the underside to attach the white netting that directs the ball down once it's been sunk and prevents it from flying off in a wayward direction.
Breakaway Rims
Many rims are fitted with a spring-loaded system that allows them to get pulled downwards and then when released, spring back neatly into their original position.
While not usually designed to take an adult's weight, a mini basketball rim can support a child's weight in most cases.
Netting
The nylon netting is usually white with loops through it. Some are longer than others with the extended-length ones offering more ball control.
Scoring system
A few indoor basketball hoops come with a built-in scoring system and sometimes provide the time too.
They may have an announcer built-in to audibly confirm when a dunk is made, etc. These require batteries to run which must be replaced or recharged.
Door fitting system
The indoor basketball hoop for the bedroom is expressly designed to fit over the top edge of a door and under the door frame itself.
Even when the bedroom door is repeatedly opened and closed, it should stay in position.
Metal fixings and foam is included to position well and dampen any sound during use. The child may need to be told not to slam their door when angry otherwise the basketball product will have to come down.
Assembly
The fittings provided in the box usually deliver all the tools necessary to put the product together and then fit it correctly to the door so that it stayed up securely.
Basketballs
One or more mini-sized basketballs may be provided. They're mini-size ones that are lighter, smaller, and fit into a kid's (or adult's) hands better.
They match the smaller size of the backboard they'll be playing with too.
Sometimes the balls are rubber and other times made from foam. Foam ones are perhaps less durable but are lighter, don't bounce, and potentially could cause less damage from a stray ball.
The balls are usually not fantastic quality as most of the cost of production goes into the backboard and fittings, not the basketball. Better quality mini basketballs can be purchased later as needed.
Hand pump
Many products come with a hand pump. It's usually a basic model that isn't ideal, but it'll get the job done. It should be good enough to use a few times.
Conclusion
Mini Basketball hoops for the bedroom are smaller than you'd imagine. They fit neatly at the top of a door and offer a break from other activities to sink a few shots one after the other. They also don't weigh much and are easy to fit.
Where a child is too young to use an outdoor basketball system but has shown early interest in the game, buying a basketball hoop for the bedroom wall is an excellent first step.
Related Post