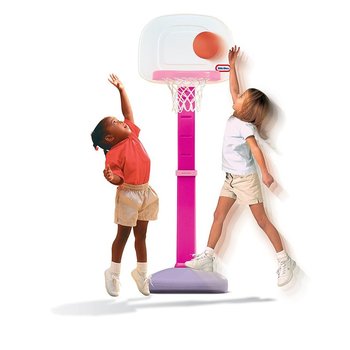 The 10 Best Basketball Hoops For Kids And Toddlers
Getting the fundamentals of basketball down at an early age is useful for young kids to learn dexterity and flexibility.
Taking in where objects are on a basketball court (or the parking area turned into a court with a basketball hoop) makes it easier to work within the confines of different spaces for children who need to develop better coordination.
Playing basketball is also fun for kids to learn and enjoy too, let's not forget that! Here are the best basketball hoop for kids. A few different kinds are depending on where the hoop is going to be located and the age of the child who's going to play with it.
A mini basketball system is freestanding with its weighted base, stand, backboard, hoop, and net. Similar systems like ones that are just a backboard, hoop, and net that get fitted to a door or an interior wall are also reviewed too.
Top 10 Basketball Hoop For Kids & Toddlers
Little Tikes EasyScore Basketball Set
The Little Tikes easy score Basketball set is a good mini hoop system with its adjustable freestanding base,
backboard, and oversized rim to make it easier to score. The set is sold either with a single child-sized basketball or three of them.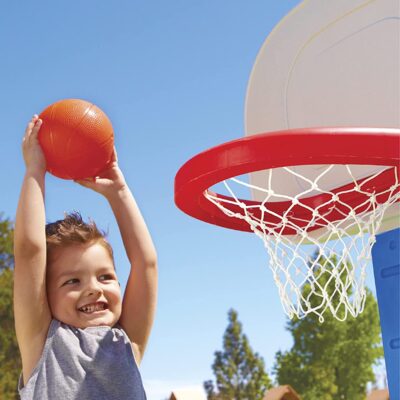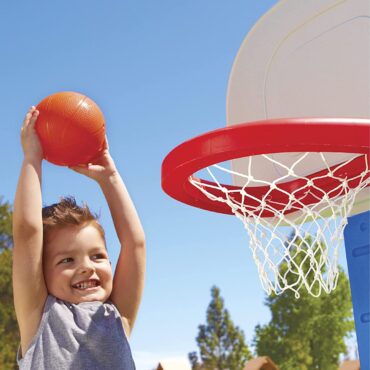 Sand or water needs to be added to the base to weigh it down which is not included with the product. The hoop's height is adjustable from two feet up to 4 feet tall to be ideal for young kids 1 ½ up to 5 years old.
The hoop can be slam-dunked or just shot at the hoop from a distance works too.
The net is white, the rim is red, and the backboard is white, with a blue stand and a back base. The use of different colors lets small kids identify better which part of the mini hoop they're shooting at.
The product is a good all-rounder because it offers young toddlers a way to get into basketball early in their young lives. It's accessible even if they're not too tall yet, so it doesn't make them feel inferior either and will build confidence with every hoop achieved.
The SKLZ Pro Mini Basketball Hoop – Glow in the Dark is a cool basketball product to hang on the wall or the back of a door (it doesn't have a freestanding base).
There are several versions, but the one under review is the standard-sized one that glows when the lights are out. SKLZ Pro looks cool and also manufactures a basketball backpack.
It does come with a 5-inch-sized basketball that always can be seen in the dark.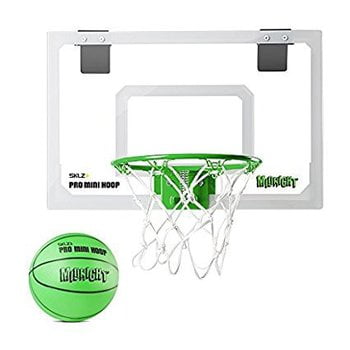 The hoop is 9 inches in diameter with a spring back facility to rebound to its original position. There's also an 8-loop net that has a satisfying sound when sinking a ball on target.
The backboard is polycarbonate; it is not quite as shatterproof as stated by the manufacturer and we've found that other parts of the hoop can come apart with prolonged use.
When hitting the backboard with the basketball, it's not quiet at all. Furthermore, when hanging the product on a door rather than a wall then a ball hitting the backboard with push it back to the door which also makes noise as if the door was hit directly with the basketball. So, it's not quite in use at all.
Little Tikes TotSports Easy Score kids Basketball Hoop
The Little Tikes TotSports Easy Score Basketball Set is a pink product for girls that helps them learn motor skills, social interaction when playing in teams, and hand-eye coordination.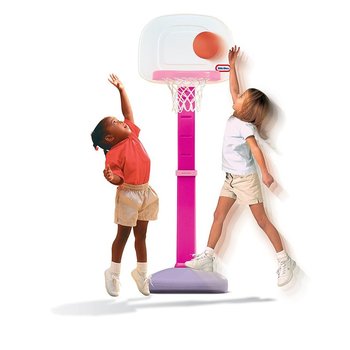 It's not much different from a previously reviewed similar model from Little Tikes that wasn't aimed specifically at girls.
Adjustable height from 2 feet to 4 feet. Suits girls who are 1 ½ years to 5 years old. Requires weighing down with sand to prevent the product from falling over.
The oversized rim makes it easier to score simple shots without difficulty.
Great product for little girls who are showing signs that they want to play sports and need some encouragement. Improves coordination, movement, and confidence the more she plays basketball at a young age.
Fisher-Price Grow-to-Pro Junior Basketball
The Fisher-Price Grow-to-Pro Junior Basketball is a mini basketball set designed for smaller children.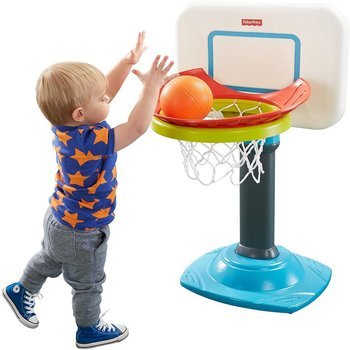 The plastic rim is wide with edges that extend out like fins in all directions at an upward angle to catch stray balls and let them work their way into the net below.
The extended rim is also removable when the child gets a little bit older and more accomplished.
The height is adjustable to one of four positions. The maximum height is only 40 inches which is shorter than some other mini-basketball sets under review here.
A single young child will grow out of this product because it's smaller than other models.
This product works well for the really small kids who like to walk up to the net and pop the ball into it.
Their arms might not be strong enough yet to throw the ball, so they can still participate without needing to jump or throw. Then the kids that get into basketball can graduate to a large hoop set that's height adjustable up to 4 feet tall.
Fisher-Price I Can Play Basketball
The Fisher-Price I Can Play Basketball, Frustration-Free Packaging is a model designed for big toddler basketball hoops and teenagers' use.
It has a sleek look with a black backboard, orange markings, a white-gray stand that's adjustable in height, and a black base. The base is free-standing, but it can be filled with either water or sand (nothing is supplied) to ensure it's more stable.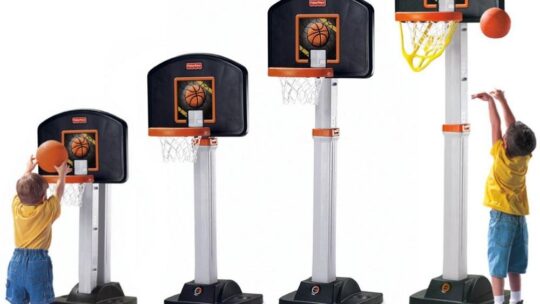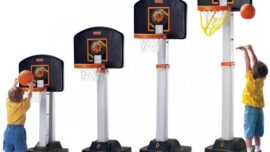 The stand adjusts from 3 feet up to 6 feet tall. It's a little difficult to get down to the 3 feet height setting but the others are easy enough to set up.
The height is good enough that teenagers can use this basketball system too. For smaller toddlers, even the lower height setting will be too tall and a source of frustration for them. Then, this is a more advanced product for taller, older toddlers and kids older than this too.
For practice sessions, the product is compatible with ball return scoop attachments that send a ball back to you after successfully making a shot.
A child-sized basketball and one better suited to one-on-one play or in a group come provided. Both needed to be repeated inflating and don't appear to be the greatest quality. Easy to unpack and set up.
Little Tikes Adjust 'N Jam Basketball Set
The Little Tikes Adjust 'N Jam Basketball Set is a great indoor and outdoor gaming product. It has a sturdy base that gets ever sturdier when adding sand.
It will work indoors and slide across the carpet when not weighted down too much. It is also good with the outdoor elements for some time too, but don't expect it to last forever this way.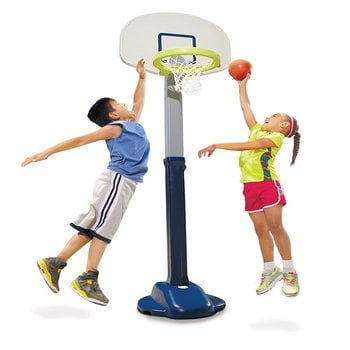 The hoop height adjusts from 4 feet up to 6 feet tall. The ideal ages for this basketball set are 3 years to 6 years.
Older than this and it's likely that the child will not be able to get the most out of the set because it'll be too short to present many challenges to dunking over and over.
The product is well-built and is likely to be usable for several years if well taken care of. Because the basketball set can be set up indoors and also outside, that makes it more valuable because there's greater flexibility there.
New homes with different spaces, room orientations, and setups may cause this to need to go outside (or come inside) which is where the indoor/outdoor feature will save you money in buying a new set.
Fisher-Price I Can Play Basketball
The Fisher-Price I Can Play Basketball hoop for kids is a freestanding basketball set that is only 40 inches at its tallest setting.
This means that it's ideal for use with small 1 ½-year-old ones right up to the 5-year-old.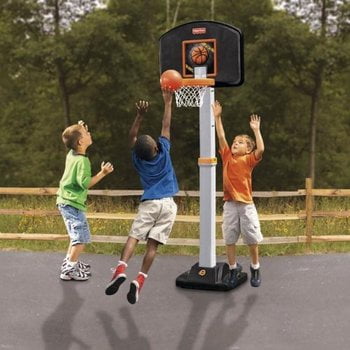 The white backboard stands out with its red target markings and Fisher-Price logo above that.
The bright red basketball rim uses the SureScore system with an enlarged plastic rim that points up and out to provide a more likely score for the little ones.
The inclusion of the SureScore attachment makes it less likely toddlers will get discouraged when they cannot hit the hoop their first or second time out.
For older toddlers, removing the SureScore attachment is simple enough and adds to their difficulty level.
There are several height positions up to the 40-inch maximum. This allows for good flexibility as the toddler grows up.
The base stands on its own but is sturdier when weighted down with sand (water works too but isn't as sturdy because it's lighter).
The hoop is usable both indoors and outdoors. It will last less time when left outdoors though. A small ball is provided for use that's small enough for little hands to get a good grip on it.
Step2 Shootin' Hoops Junior Basketball Set
The Step2 Shootin' Hoops Junior Basketball Set is a way to buy from a different brand than the major ones like Fisher-Price or Tikes.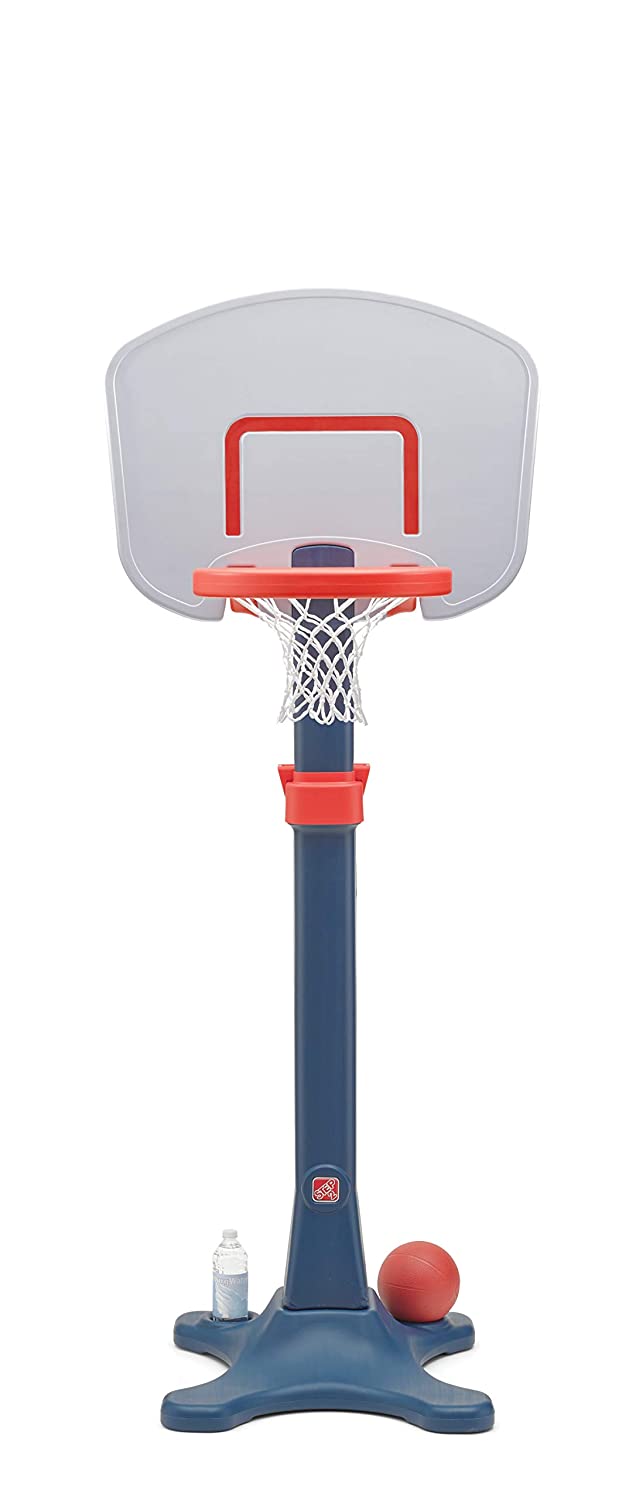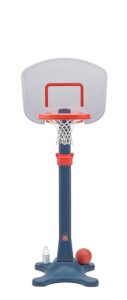 The model has a lighter-looking base which comes with two circular spaces either to hold a drink or the six-inch ball that is provided.
The back pole adjusts the height from a low point of 30 inches to a high point of 48 inches, adjustable up/down in 6-inch moves.
A modest amount of sand or water may be added to the base, but there isn't as much space to add the same kind of volume as with other products.
The backboard is taller and wider than some other mini-basketball sets available. It's white with red markings to help with target practice.
The rim is bright red, easy to see, and wide to make it simple to hit. It's plastic and not a metal pole that a child could hit their head on.
Some reports of a lower build quality have been noted. Mostly seems to affect the hoop not staying attached. Adding additional screws or some zip-ties to 30 inches doesn't drop off the th48 inches is recommended.
Little Tikes Toy Basketball Hoop
The Little Tikes Adjust and Jam Pro Toy Basketball Hoop is a tall product with a white plastic backboard. The backboard is larger than expected for many parents.
The product has five height adjustments from 4 feet right up to 6 feet which suits older toddlers up to 5 years old (depending on their height).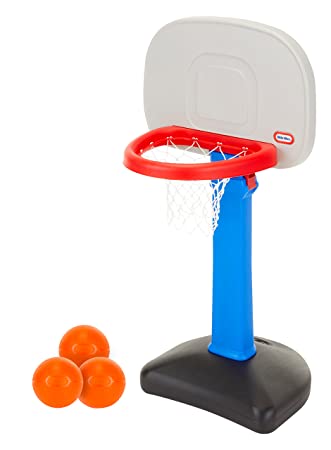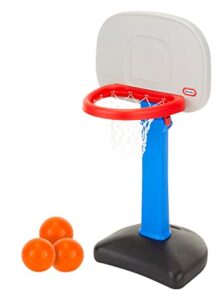 The package comes with the base, a kids' basketball hoop, and a smaller basketball. The base is fillable with sand at the front and has a ball holder at the back.
It is worth filling it up to add greater stability to this taller product before use.
There have been some reported issues with the breakaway hoop (which falls away pointing downward while still attached) dropping out far too often.
This isn't a fixable problem for parents. Also, zip-ties ma zip ties to keep the net from falling off the ring as it is prone to do.
Little Tikes Play Like A Pro Basketball Set
The Little Tikes Play Like A Pro Basketball Set is a nice set for kids that are more serious about basketball and are graduating from a smaller one.
It has a 4 to 6 feet adjustable height and a rim that breakaway safely too. There is one junior-sized basketball included.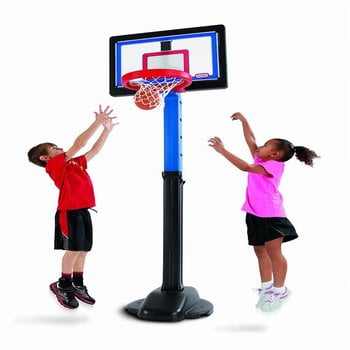 Add sand to create more stability. More colorful than some other outdoor sets with black and other colors used creatively.
The height adjustments don't always stay in place which is a bit jolting.
Factors Consider Before Buying Basketball Hoop for your kids
When planning to purchase a basketball hoop for your kids, it's always a good idea to review what you might need to think about ahead of time. To assist you, here are a few of the factors that are worth considering:
Materials
Look at the materials for any product that you're interested in. Whether the hoop itself, the backboard, or the stand – all the materials are important here.
Cheaper basketball hoops tend to use inferior materials that can degrade or simply break from excessive use.
As your child gets stronger, they can be too heavy-handed with a toddler basketball hoop, so it's useful to consider their age, strength, and how durable a basketball hoop designed for kids needs to be. Then pick accordingly.
The ring itself is made of steel in most cases. It must be strong enough to not bend or break under duress. Children who dunk the ball and put their weight on the hoop will push the product to its limits.
The baseboard or backboard must also be tough enough to withstand whatever er punishment a junior baller can muster.
Design and Stylishness
Basketball hoops for kids come in all shapes, sizes, and uses. Some are on the ground. Others are hung on the back of a door or outside.
The design is also a factor in how old the child needs to be to safely use the hoop too. This consideration usually direct affects its design, size, materials, and other elements that make up the usable product.
Some hoops are adjustable for height rather than being a fixed height, but these are costlier and weigh more.
They're also more prone to part issues at times compared to an all-in-one fixed design that will last your young child a handful of years until they get significantly taller than their height today.
Safety Considerations
With the safety angle, it's necessary to think about issues with your child and how they play with their toys or use their sports equipment.
Is there a risk of them bowling into an upright basketball hoop on a stand and knocking it over through their inattention? In which case, is a smaller basketball hoop that's got a sand-filled heavy base to avoid it tipping as easily a better product choice for them?
Also, think about any chemicals or materials that could cause their sensitive skin to get irritated.
This is where sticking to big-name brands for hoops gear is better than the cheaper options. These brands care about their final product and test the equipment to avoid issues.
Height and Weight
Along with basic safety, consider the height required for a hoop for your kid and the weight of it too.
A product that's more durable and comes with a base that can be filled with sand provides a sturdier option than an inexpensive basketball hoop with a plastic base that's too light and cannot be filled with sand or water for that matter. The latter is more likely to topple over.
Match the height of the basketball hoop and the necessary weight of it to the age and height of your child. This is often the best way to approach a purchasing decision too.
Basket

ball 

Rules for kids – How to Play Basket

ball
Basketball was invented in 1892 but has evolved. This makes it difficult for young minds to fully grasp the essential points about what makes basketball what it is, the rules, and how to play the game.
If you're not careful, this can cause frustration and embarrassment, and then they quickly give up avoiding the situation.
For the above reasons, it's necessary to reduce the basketball rules down to a few basics to get younger players starting to play and then modify the rules as they get older and larger with growing capabilities as amateur ballers.
Here are a few simple rules to teach kids so they can learn basketball more quicker:
Playing Team and Playing Area
First, comes the team. It's five players on one side and five on the other. Ten in total on the court playing at a maximum.
Basketball courts are set up with a large rectangle drawn on the floor's surface. Players must play inside the rectangle and usually not leave it.
This is called the court. The court – the rectangle – is split into two halves by a line in the center of the floor. Each side is defended by players while their opposition attempts to get the basketball into the opponent's overhead basket.
In Bounds and Out of Bounds
Younger ballers need to learn that they must stay inside the rectangle known as "the court". Otherwise, they will be found to be out of bounds and the game stops.
When a ball does reach out of bounds, the game pauses. When ready, the ball is thrown inside the court from the outside rectangular line that separates the court from the rest of the gym or sports arena.
One important distinction is when you don't have the ball, you're allowed to step off the court (meaning, out of the rectangular playing area). There is no penalty and the game continues without you.
Offense and Defense
Players are either tasked with defense or offense.
When the team has ball possession, they take on the offense position. Aiming at the other team's side of the court, their role is now to move toward the hoop and eventually, shoot the ball at it.
Alternatively, when losing possession, then the entire team is in a defensive posture. At this point, they are trying to cover each player to prevent them from moving to their side of the court and getting a shot at the hoop.
Dribbling and Shooting
Dribbling means bouncing the ball and moving at the same time. This is how to move down the court. Start by learning how to bounce the ball while standing still and then progress to moving and dribbling (bouncing) the ball on the court and moving around at the same time.
It's important to not just carry the ball and walk or run. This isn't allowed. When wanting to pass or shoot for the hoop, get on your toes to do it.
Picking up Your Dribble
When you stop dribbling the ball, you can only make one step with one foot. The other foot stays on the ground. If both feet change positions when not moving, that is "traveling" and is illegal. When committing traveling, the other team immediately gets possession of the ball.
When picking up the ball and making a possession, you have two choices. Either pass the ball to another player who can dribble with it or pivot on one foot to turn in another direction first. The foot that's on the ground pivoting isn't permitted to slide around or lift from ground level.
Fouls
A foul is when you do something wrong.
One common foul is touching a player on the other team where they lose the ball from their hands because of it. For this foul, the other team can try to shoot a basket from the centerline (the line between the two sides of the court).
Conclusion
The main choice with a kid's basketball hoop is whether to get a simple basketball hoop or a freestanding basketball set that can be used indoors or outdoors.
From there, the age of the toddler or young child determines the product needed to suit how high they can reach up or score.
A mode that is fillable with sand is best. Some versions are more robust and durable than others, so look for ones that don't have issues with parts not functioning correctly for the best results.
Related Post