2X NBA Champion 1989, 1990 Detroit Pistons
Championship rings have been handed out since the first NBA Finals in 1947 as the symbol of being the best – World Championship players.
We call these guys Ringers. We are fans just like you, faces painted, jerseys on, high fives at the buzzer, memories made, and ticker tapes enjoyed, so we created a series called The Ringers to share some of their stories.
We invite you inside the mind and the heart of these true champions. We are honored to have them a part of the League and hope they inspire you the way they do us.
By: Max Bozzone/Superfan Owner Gotham Ballers
Mark Aguirre was in Chicago his hometown when we spoke. Being a high school powerhouse and NCAA Player of the Year at DePaul University was just the start of Mark's storied accomplishments – which grew to include the number one overall NBA draft pick, stellar playing career as a two-time World Champion, one of the game's most prolific scorers of the 1980s, three-time All-Star, multiple record holder and all around fierce competitor.
Aguirre averaged 20.0 points over a standout 13-year playing career with the Dallas Mavericks (1981-89), Detroit Pistons (1988-93), and Los Angeles Clippers (1993-94). He currently is the President of Basketball for the Champions Basketball League.
Meet Our Ringer, Mark Aguirre.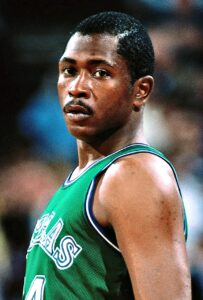 From Hello, it is obvious what makes Mark such a successful title kind of player, Mark lives and breathes the game. A Champion on and off the court. He is laid back in his communication style, but he can't hide the tenacity that he brought to the court every night because he now brings it to the management team at Champions Basketball League.
He loves the game and in this new role, he is committed to producing a world-class product for both players and the fans that love them.
Q: "Growing up, when did you know you were exceptional at the game?"
A: "Looking at how Chicago basketball was put together, back in my day – ancient as you would imagine – there weren't a lot of rules. As a high school player, I got to play against professionals. I was able to measure up against the pros as a sophomore in high school. Around my sophomore year, I started saying to myself, you know what I can do this."
Q: "You were the number one overall pick back in the 1981 NBA draft. When you were drafted to the Mavs you turned them into playoff contenders right out of the gate. At what point did you have your eyes set on winning a championship? At what point did you realize a championship was a real possibility for you?"
A: "I have to look at it from a different point of view, playing every day against the Magic Johnsons' and Larry Birds' of the world I first had to find out if I could compete with that level. Once I found out I could, I thought there was an opportunity to win a championship. With the right players and the right things, I had my eyes set on that from day one. I didn't come into the league to survive, I just don't think like that, I came to win! I came to win it all! I don't know any other way to think. I never thought any other way, I always felt my team should beat your team."
Q: "You won two championships with the Pistons back in 1989 and 1990. Between those two series, who was the toughest player you went up against in either series?"
A: "That's a difficult question, from a one-on-one standpoint I matched up against the guy guarding me I didn't have a tough time. I got double-teamed all the time. But from an individual standpoint, I never had a tough time. I was never guarded by a small forward it was always power forwards that were guarding me."
Q: "You were able to mismatch against them all the time."
A: "Yea, I wish they would have put a small forward on me, but that was never going to happen. I always felt I was dominating at my spot because they never would've thought of putting their small forwards on me. Don't get me wrong the NBA is tough, it's a war every night. It was tough, but individually I didn't have any problems."
Q: "You said every night in the NBA is like a war. How did it feel to at the end of the season not only once, but twice be able to slide a Championship ring on your finger?"
A: "You get satisfied for about a week, and then you get back to work. Between training and then all the players getting drafted you're getting to work – trying to repeat. If you're not playing the game to win the Championships, then sure you get months off. But if you're playing to win titles you get maybe two weeks of satisfaction before you're back to training and getting ready for the grind of the next season."
Q: "You had a very decorated career, averaging 20 points per game, you won 2 NBA Championships, was a three-time All-Star, amongst a litany of collegiate achievements. What is your favorite moment from your career?"
A: "My favorite moment would probably be between high school and college. The NBA was great, to win an NBA title is a rare thing but there are so many things going on that basketball becomes more of a job than a game. When you're in high school you're playing for the love of the game. High school and college basketball are as pure as it gets. I am one of the guys that love just pure basketball."
Q: "So would you say your love of the game started to fade later at the end of your career?
A: "No, I just had to manage it differently The love was there, it never left, and I don't think it will ever leave."
Mark's love for the game, made him a powerful and prolific player. He leads teams with his aggressive play, dedication to excellence, and all his heart. His two Championship rings were well earned and fans will continue to see his love for the game as he fields fan favorites into fiercely competitive 5-on-5 play for the Champions Basketball League.