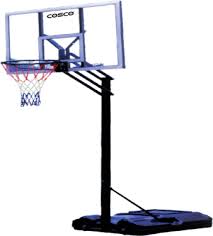 Which is The Right Basketball Hoop For Your Home?
With the kind of passion the basketball players are rising with, more people are becoming prone to basketball training and techniques. A portable basketball goal for home saves much effort on your time and energy.
Rather, than hitting the gym and or hitting the professional ground for regular practice, it would be wise to save time and do the same at home.
How to select the right basketball hoop for your home?
Choosing from a range of hundred models and features could be confusing. But, you cannot simply throw your valuable money on anything blindly. Hoops with poor performance and low quality will surely affect your practice sessions.
Lifetime 1269 Pro Court Height:
This is ideal for beginners and start-up players. A large base assures the best user experience. If you fill it with sand or water, it makes it more protected and prevents shaking. The wheels help you shift it from one place to another with a little effort from a friend.
Silverback 60ˈˈ Adjustable Hoop:
This product comes in a classic black color and a clear backboard design. The breakaway rim is the cherry on top as it reduces the risk of breakage giving additional protection. It also comes with a base stand to prevent tripping or moving around.
Spalding NBA portable basketball:
The exclusive gear produced by them is widely used by basketball players and other sports lovers. Enjoy the NBA logo to brag about the brand at the backside. It comes in two different sizes.
Lifetime 32″ Youth Hoop:
Enjoy weather and water resistance with Lifetime 32ˈˈ Youth Hoop. Lifetime Youth Hoop offers you a 5-year warranty period for its maintenance. You can easily use it outdoors too as the nylon net and rust-free material is good enough to use regardless of weather conditions.
Spalding 54″ Glass Ultimate Hybrid Hoop:
Made up of steel board and aluminum trim, this product has a lot to offer. The screw jack system helps you to adjust the height for your play. The glass backboard is made up of heavy-duty solid steel. The company is known for good quality products.
Spalding Pro-Tek System:
It is one of the most demanded hoops for its tempered glass and portability. The glass board features to attract customers for its bouncing effects. It is capable enough to bear even a heavy knock by hard kicking or shooting too. It is economical to buy and the quality of life is long-lasting.
Lifetime 44″  impact backboard:
It is one of the best for daily entertainment and is ideal for those who love colorful backboards. The material is built up of a heavy duty-base and steel frame to give extra strength. The design is appealing and presentable. Enjoy long-lasting, durable, and sturdy pieces for your home.
There are many other portable and in-ground basketball hoops in the market that people rely on. You may also check the other e-commerce sites and go through their reviews before choosing any. Whatever you choose, ensure that it fulfills your requirement and gives you the perfect basketball experience.