Do you own a few basketballs, but you haven't been able to find an appropriate basketball air pump that won't let you down? Well, then you're reading the right guide in this case.
When a basketball is not properly inflated, it won't bounce right. This affects everyone on the court or during practice because their reactions to the ball bouncing on the court is completely different.
It won't rebound as high and they'll unwittingly adjust their bodily response to meet the ball at a lower height. Yet when they return to using a ball that's fully inflated, they again must adjust to a more responsive bounce which can easily catch them out. It's a bad recipe for player performance.
With quality, this matters more than ballers realize too. The valve must be accessed securely to pump air into a ball.
With inexpensive pumps, they have unreliable needles that make for insecure connections, can damage the valve, or cause air to leak as it's still being pumped inside the ball if the connection made is not secure enough.
Getting the right basketball air pump is no laughing matter either. Therefore, Champs Hoops decided to discuss with them to find the best one for active ballers who demand nothing less than a fully inflated ball.
Top 5 Basketball Air Pump & Needles
The Automatic Electric Fast Ball Pump looks a little space-age in its design.
It resembles a long tubular design with digital controls at the end of it. The controls allow you to switch between inflating different types of balls including basketballs, volleyballs, rugby balls, and other types of inflatables.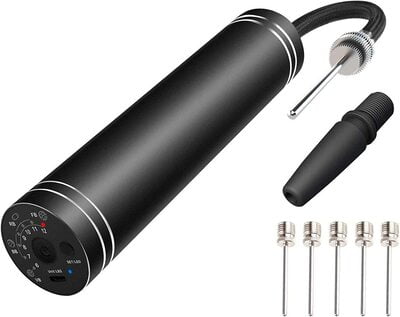 This USB rechargeable electric pump has multiple settings on it to apply different amounts of air pressure.
However, it's also got an automatic sensor inside to determine what the correct inflation level is for the connected ball or other items.
The sensor is there to avoid making the mistake of overinflating the ball or inflatable pool toy to the point where its inner tube becomes damaged or pops open usually requiring the complete replacement of the ball or inflatable at that point. So, potentially this feature can save you money down the line.
Once fully charged, up to 30 basketballs can be pumped up. This makes the model useful inside a gymnasium, or other venues where many practice sessions are run. The unit is also compact and will slide neatly inside a sports bag without difficulty too.
The dual-action manual air pump from Under Armour is a little more "old school" compared to the previous, Automatic model. Yet for people who are more accustomed to a hand pump with a few improvements since their day, it's certainly more in keeping with what they'll be used to previously.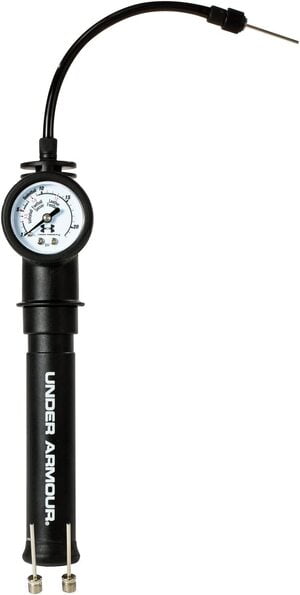 The dual-action pump looks modern with its sleek black design and Under Armour logo.
The gauge that is fixed at the top of the pump tube provides much better information about air pressure levels than was possible with basic air pumps that simply had a connection pin and a pumping handle to lift and apply repeated downward pressure to inflate the basketball.
When you know the correct amount of pressure on a regulation-approved basketball, then you're all set with this pump. You can get that from the ball manufacturer's website, no doubt.
Without looking at that important detail up, it's more of a guessing game unless you reference the guide pressure levels inside the gauge itself and use those instead.
The pump is easy to use by anyone once they know the correct pressure setting. No electronic features are making it more difficult for players to use this pump.
They'll all be able to get to grips with it quickly. Crucially, there's also no risk of the pump running out of battery life in the middle (or just before) a practice session either.
The Valiant Sports Ball Pump is designed as a light, convenient inflator for use on different types of sports balls. These include basketballs, soccer balls, volleyballs, American Footballs, and balls used when playing rugby too.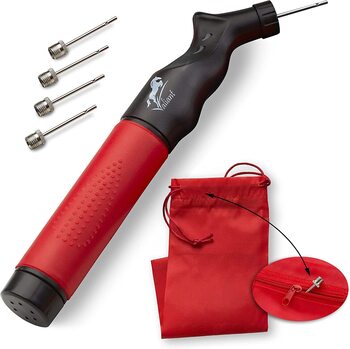 The design is a pure hand pump. There's no air pressure gauge to rely upon here either. It's more like the type of pump that players have used for many years before better technology came along.
The handle has a modeled rubberized grip to help the hand avoid slipping while performing the pumping action.
There's also a flexible pin holder design that permits the inserted pin to move around somewhat. This design avoids pins snapping while embedded inside the ball and possibly getting stuck.
Five pins are provided. These are easy to install or replace as needed. Most pumps only come with 2-3 pins, so this is more generous and should ensure the basketball air pump can be used for many years.
A brightly colored nylon bag is provided to carry the pump and spare needles to the ball game without worrying about the needles piercing a ball during transport.
The SPORTBIT Ball Pump has a very similar design to the previous model Valiant hand pump right down to the orange-red coloration.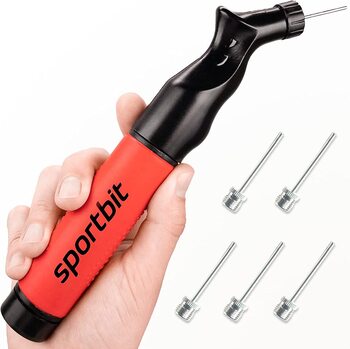 It too has a two-way airflow system described as pushing and pushing air in each direction
This basketball air pump does indeed also come with five pins and the same system to allow the bending but not breaking of individual pins once inserted inside the ball. This should give the needles a longer life.
The handle uses a softer silicone making it easier to grip firmly and pump air reliably.
There's a convenient e-book provided along with the product which gives ballers some ideas about healthier eating recipes.
No carry bag with a zip is provided, unlike with the similarly designed Valiant model which perhaps would have been more useful.
There's also a three-year guarantee provided with this product too. Buy From Walmart
For a big sporting brand, the Nike dual action pump will hit the sport.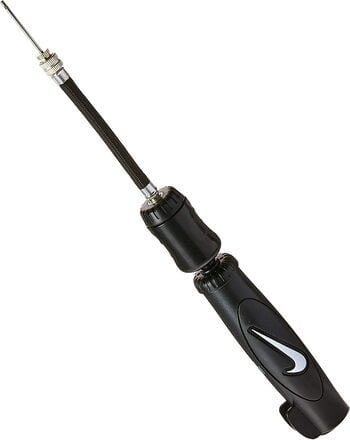 The molded design is sturdier and more heavy-duty in appearance than other pumps reviewed above. The pump has some grip, but the lower section has more.
The house is noticeably short and much shorter than with other hand pumps.
This isn't a problem, but it does mean that you'll need to be bent down much close to the ball level when the inflation is happening.
Unusually, this Nike air pump comes in a choice of six color schemes. There are black ones, white ones, a yellow/green one to stand out, and a pink one to please the lady ballers too.
A similar dual-action air-in and air-out process are featured in this hand pump. However, it doesn't come with any pressure gauges and it is not electric either.
Therefore, while this is a Nike-branded product, this particular one doesn't have some of the bells and whistles of earlier reviewed models.
It includes a single extension hose and just one needle. There's also no suggestion that it has a flexible pin implementation like with some other models previously reviewed.
Conclusion
With an air pump to inflate basketballs and other sporting equipment, you've got three main choices. Do you buy a fully electric air pump, a manual pump with a PSI pressure gauge, or a basic hand pump with no extras?
There are weight and pricing considerations within these choices. The basic hand pump that has been used for decades is tried and tested. There's a decent Nike model to satisfy that need and the branding needs too.
However, for ballers who want a little extra, buying a hand pump with a pump gauge and recommendation for pressure levels is perhaps worth the price to avoid damaging expensive basketballs and getting blamed for it. It's also sporting the Under Armour brand too.
On the higher end, you have the electric hand pump models. These are a far newer design and come with lithium batteries in most cases for longevity.
They'll last as long as the battery does as there are usually several pins provided.
The flexible pin design is a useful feature that most basketball air pumps now have. It avoids pins breaking off too easily. A carry bag is a nice extra with several loose pins lying around. However, it's not an absolute necessity.
Related Post